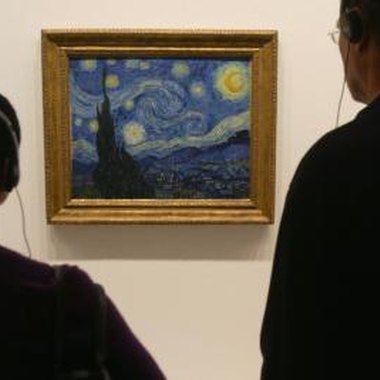 Van Gogh's painting "Starry Night" has captivated people for over a century. Painted in 1889, it has gone on to become one of the artist's most iconic works, and one of the most famous paintings of all time. Although you may recognize this work, there are a number of interesting facts about this painting you may not know.
The Appearance
"Starry Night" depicts a town below a night sky. Swirling clouds move through a sky dotted with stars and a yellow crescent moon. Below is a small town nestled into rolling hills, with a church occupying the center of the painting. To the left is a large shadowy Cyprus tree that dwarfs the town. The colors are mostly blues and yellows, but you can also see shades of black and green.
The Process
This painting is in the impressionist style with swirling lines and not-to-scale objects that depict the artist's personal view of the landscape. The painting is oil on canvas. Van Gogh chose to give the work a very low eye level drawing attention to the divide between the massive sky and the small town. The difference in size between the Cyprus tree and the church steeple also gives the illusion of depth.
The Artist
Vincent Van Gogh was born in 1853 and died in 1890. Now world-famous, he was not successful in his life and only sold one painting. Some aspects of the artist's life, such as his religious views, seem to inform this painting. Some believe there was a religious motivation to the painting stemming from Van Gogh's desire to devote his life to religion in his youth. The immensity of the sky may reflect this, displaying the majesty of what he would have regarded as God's creation, and the modest town built by man.
The History
Van Gogh was in Saint-Rémy when he created "Starry Night." He had worked on the motif of the night sky since the previous year when he completed "Starry Night over the Rhone." Van Gogh was not particularly pleased with the work and wrote to his brother telling him as much. Despite Van Gogh's indifference toward the painting, it is widely celebrated today and is on display at the Museum of Modern Art in New York City.
Photo Credits
Sean Gallup/Getty Images News/Getty Images