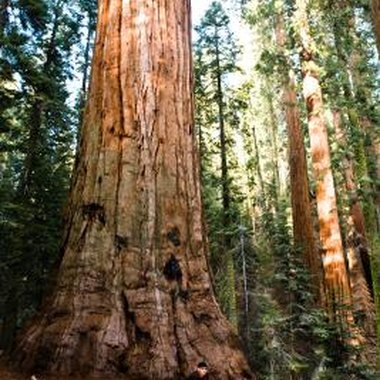 California has many state symbols. One of the most majestic is the California redwood tree. These giant trees are found along the California coast, frequently in national parks and forests. There are two types of California redwoods: the coastal redwood. Sequoia sempervirens, and the giant sequoia, Sequoiadendron giganteum.
Sequoia Name History
The two types of trees were named separately by two different people. German botanist Stephen Endlicher christened the coastal redwood trees as Sequoia sempervirens in 1847. This name was likely given in honor of the Cherokee Indian Chief Sequoya or Sikwayi, who developed symbols used in creating a phonetic alphabet for the Cherokee language. The giant sequoias, which are closely related to the coastal redwoods, received the name of sequoia in 1854 by French botanist Joseph Decaisne.
Size
The giant sequoia starts its existence as a seed that is less than 1/2 inch long and can grow as high as 250 feet. Its height is not the only aspect of this tree that is giant, as it also can grow to be at least 20 feet in diameter. One sequoia in particular, the General Sherman Tree in Sequoia and Kings Canyon National Parks, is cited as the largest tree in the world by volume, with its height reaching 274 feet and a circumference of more than 102 feet.
Locations
There are several places to view giant sequoias. Sequoia and Kings Canyon National Parks in the Sierra Nevada region of the state provide exquisite views of the trees. The Sequoia National Forest is not far from these parks. Also, the Giant Sequoia National Monument provides 353,000 acres of park and 33 sequoia groves, six of which are available for in-depth exploring. There are many interesting trees in these groves such as the Boole Tree, another one of the largest trees in the world, and the Trail of 100 Giants. The trail is suitable for hiking and has many interesting sights such as a circle of five sequoias.
Visiting the Sequoias
Some areas such as Sequoia National Park, Giant Sequoia National Monument and Kings Canyon National Park offer recreation in addition to viewing the spectacular trees. Camping, horseback riding, hiking, whitewater boating, fishing and mountain biking are all available activities. Also, the parks are open year-round and offer more to do during the winter. Visitors can participate in snowmobiling, cross-country skiing and snowshoeing, subject to park regulations and rules.
Photo Credits
Jupiterimages/Photos.com/Getty Images