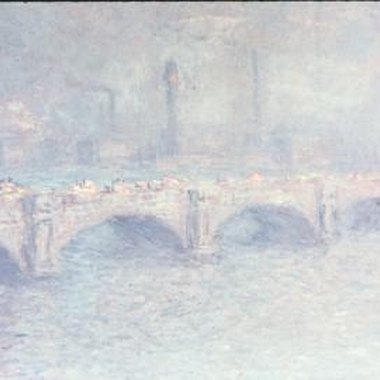 It may be hard to believe that the simple addition of color would be enough to ignite a revolution in the world of art. In the latter half of the 19th century in France, a group of painters known as Impressionists would defy 200 years of government control over the arts just by daring to use new color pigments. Claude Monet was one of these rebel painters whose paintings would come to be celebrated well after he and his Impressionist cohorts changed the definition of art forever.
About Monet
According to A&E;'s Biography, Claude Monet "sought to paint the world exactly as he saw it, not how he knew it should look." Monet was born in Paris, France in 1840. In his teen years, he was introduced to outdoor painting, and by the age of 19 he was officially pursuing a career in art. He began traveling to find new and different landscapes to paint. Unfortunately, he found his work could not pay the bills and destroyed many of his early paintings rather than let them be taken by creditors. Monet married and moved to London, then back to France and the town of Giverny. While in Giverny, Monet was able to earn financial and commercial success for the first time. He passed away in 1926.
Impressionist Style
In 1874, Monet debuted a painting called "Impression, Sunrise" at an exhibition of the Anonymous Society of Painters in France. He and other artists like Pierre-Auguste Renoir and Edgar Degas had grown unhappy with the style of painting -- involving classical techniques in place since the Renaissance -- favored by the French government. They began to use new, more colorful pigments and a technique involving short, choppy brushstrokes. They stayed away from the sketching and drawing method and instead painted with an intentional lack of detail, leaving white space and focusing on the relationship between color and light to bring the scene to life. When a critic saw "Impression, Sunrise" at the exhibition, he chastised it, calling it unfinished and just an "impression" of an actual painting. Monet and his fellow artists began calling themselves "Impressionists" as a point of pride.
Landscape Paintings
Monet is well know for his depictions of landscapes and outdoor scenes. Rather than work inside and imagine what his surroundings looked like, the Metropolitan Museum of Art explains that Monet would take his large canvases outside to better capture the reality of nature. Consistent with the Impressionist style, Monet used a light primer to ready his canvas, rather than the dark grounds commonly associated with that time period. Some of his most recognizable landscape paintings include "Boulevard des Capucines," "The Garden at Giverny" and "Poppy Field, Argenteuil."
Serial Paintings
Monet spent much of his time on serial paintings including "Rouen Cathedral," "Poplars," "Haystacks" and "Water Lilies." For each series, he would create the same painting at different times of the day. He would start several canvases, then move from one to the next as the hours passed. For the "Rouen Cathedral" series he painted more than 30 canvases, while the "Water Lilies" series was comprised of 250 canvases. The latter series depicted the pond at Monet's home in Giverny, and many of the canvases were completed while he was battling cataracts. The various canvases have been separated among multiple museums over the years.
Photo Credits
Jupiterimages/Photos.com/Getty Images