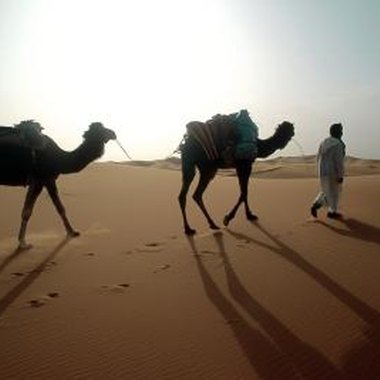 In 2008, the National Geographic Special "Birth of Civilization" aired. The program takes a look at the development of modern man over the last 8,000 years using reenactments, special effects, interviews and live footage of the natural world. A DVD of the program was released in the summer of 2008.
The Program
"Birth of Civilization" begins with the origin of our planet and the appearance of homo sapiens. This 90-minute program starts by looking at early humans as nomadic people who eventually settled into a territorial lifestyle as modern man. Several key elements are highlighted in human development that propelled homo sapiens to the dominant species on the planet. These elements include the discovery and control of fire, the domestication and breeding of animals, the development of wealth and growth of the city-state, the mastery of language and writing and the human enslavement of its people.
Chapters
The "Birth of Civilization" DVD is broken into 18 chapters,: 1) Introduction, 2) Origins of the World, 3) Stop Roaming, 4) Transition to Modern Man, 5) Concept of Home, 6) Invention and Innovation, 7) Two Things Unheard Of, 8) A Flash of Insight, 9) Domestication of Animals, 10) Animal Husbandry, 11) Seizing Wealth, 12) Vertical Society, 13) Beginning of the City-State, 14) Learning to Write, 15) Losing Freedom, 16) Cornerstone of Civilization, 17) Conclusion and 18) End Credits.
Credits
"Birth of Civilization" was developed for the National Geographic Channel by Steven Burns, Michael Cascio and Shannon Malone. It was directed by Jacques Malaterre, executive produced by Jacquelin Bouchard and producced by Barthélémy Fougea, Frédéric Fougea and Nicola Merola. Martial Barrault served as the director of photography for this program.
Bonus Material
The DVD of "Birth of Civilization" comes with a bonus program "Tiny Humans: The Hobbit of Flores." This 50-minute National Geographic Special examines the possibility of human ancestors of short stature from about 180,000 years ago. Skeletal remains were recently discovered in Indonesia and is a subject of controversy as scientists debate whether it is a homo sapien stricken with disease or a new species. Also included on the DVD are links to National Geographic websites as well as trailers for the National Geographic specials "Stonehenge Decoded," "Dawn of the Maya" and "Sea Monsters: A Prehistoric Adventure."
Availability
"Birth of Civilization" was released on DVD by National Geographic Video and distributed by Warner Home Video on June 24, 2008. As of August 2011, it is in print and available at stores such as Amazon.com for a suggested retail price of $19.97. The DVD can also be found in libraries across the United States and for rent on Blockbuster By Mail, though it was not available from Netflix as of August 2011.
References
DVD: Birth of Civilization, National Geographic Video, 2008
Photo Credits
Goodshoot/Goodshoot/Getty Images