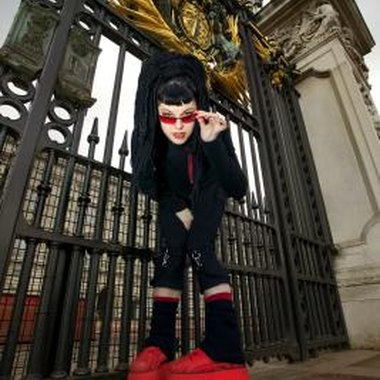 Emma Bunton is best known as Baby Spice, the pigtail-wearing and platform-shoe clad member of the Spice Girls singing quintet that was popular among teen and "tween" girls during the mid-1990s. Bunton later pursued a solo music career and performed in a television dancing competition.
Early Life
Emma Lee Bunton was born in London to working-class parents Pauline and Trevor on January 21, 1976. She was a child model who appeared in commercials for baby clothing, toothpaste and toys. During her childhood, Emma also played bit parts in well-known British television series, including the famous "East Enders," in which she appeared briefly at age nine. Later, she attended a well-known drama school, but left school to join the Spice Girls as their last member.
Spice Girls
Emma Bunton replaced Michelle Stephenson, who was to have been the fifth Spice Girl along with Victoria Adams (now Beckham), Melanie Chisholm, Geri Haliwell and Melanie Brown. As the youngest of the group, Emma assumed the persona and appearance of Baby Spice, with her trademark babydoll dresses often featuring the British flag. She also was known for appearing in height-boosting platform shoes that were very popular with her young fans. Her signature babydoll style continues to be popular in Japan.
Early Solo Success
After the breakup of the Spice Girls in 2000, Bunton was the first of the former group members to pursue a solo music career. Her first album, "A Girl Like Me" met with a great deal of success, almost instantly rising to the top of British charts. She had already released a solo single in 1999, and it seemed as if she was on her way to solo stardom. Her 2004 album "Free Me," recorded in retro 1960s style, also reached the top 10, and her subsequent single "What Took You So Long" led the charts for two weeks.
Later Career
Emma's 2005 American tour was a successful one, but her next album, "Life in Mono," which represented a departure from her earlier dance-pop style, was not as successful as her earlier endeavors. She then turned to television, where she successfully competed as a dancer in a BBC dance show competition. Bunton also reunited with the Spice Girls for a brief reunion tour in 2007 and 2008, after which she served as a judge for an ice-dancing show for BBC Television.
Personal Life
As of June 2011, Emma Bunton's partner is singer Jade Jones. Despite having been diagnosed with endometriosis, an overgrowth of tissue in the lining of the uterus that can threaten fertility, she is the mother of two sons. Her first son, Beau Lee, was born in 2007, and her second son, Tate, was born in 2011. After the birth of Tate, Bunton took a hiatus from show business to enjoy full-time motherhood.
Resources
Photo Credits
Thinkstock/Comstock/Getty Images