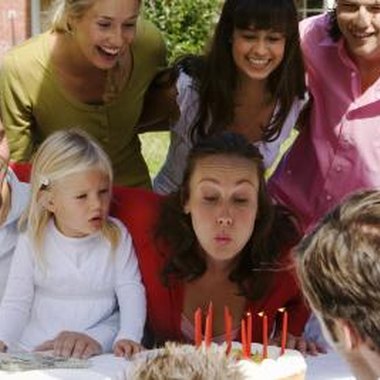 Birthday parties are fun events where guests gather to celebrate. The parties can range from punch and birthday cake in a backyard to catered dinners with silver, linen and china. No matter what route you choose, the event invitation should reflect the night's theme. An casual event deserves an informal invitation, while a more upscale party should have formal invites. There are several options when you are looking for an informal birthday party invitation.
Electronic Invitations
An informal option for birthday party invites is to send an electronic invitation. You can either choose to email out your invitation or use a website like Evite. If you send your own email, be sure to include all the relevant party information such as date, time and RSVP. Websites like Evite allow you to create an invitation that is placed on the website. Emails are sent to your guests and each person can RSVP on the website.
Phone Calls
Informal party invitations can also come in the form of a personal phone call to each guest. If you are having a small, backyard event with just family and close friends, this might be your best option. Call each person and give them the pertinent information. Make sure you call each household at least a week in advance of the event. If you receive an answering machine or voice mail, ask for a call back, but do not leave the party information on the machine. Talking to the person ensures the information is relayed correctly.
Handwritten Invitation
A handwritten invitation on stationery or notebook paper is completely appropriate for a very informal birthday party. If you are handwriting a quick invitation, you should hand deliver it to your guests. You can either drop it off at homes or give it to your friends or family when you see them at other locations, such as school or work. Handwritten invitations are one of the least formal routes so, if you choose this invitation method, you should make sure your party matches the invite.
Printed Invitations
You can choose to print invitations at home on your computer or have them printed professionally and still have an informal party. The invitation's theme should have an informal feel with lots of bright colors and pictures of things like balloons or confetti. The wording on your invitation can also be used to help give an informal feel. Don't use phrases like "cordially invite you" or "the honor of your presence." Instead use words like "come have some fun" or "join us for a birthday barbecue."
Resources
Photo Credits
Dynamic Graphics/Creatas/Getty Images