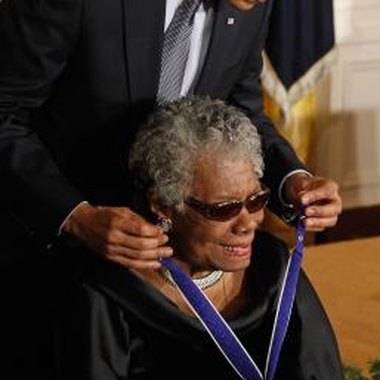 Renowned author, activist and renaissance woman Maya Angelou was born in 1928 in St. Louis, Missouri. She spent a tumultuous childhood volleying between her mother and her grandmother, and experienced the bitter reality of a segregated South as a black child. The arts propelled her from these early difficult circumstances to a national stage, where she was awarded the high honor of writing the inaugural poem for President-elect Bill Clinton in 1993. Through it all, her creative vision turned the gritty reality of the human experience into eloquence, defined though her passion and pain.
Pain
Maya Angelou has been able to turn her personal pain into verses of victory both for herself and for a generation. She began writing after a traumatic event in her youth -- being raped by her mother's boyfriend. Ultimately her assailant was arrested, tried and found guilty, but her uncles murdered the man when he was released on probation. Maya Angelou harbored guilt over this event, feeling that her words could result in death, and therefore fell mute for six years. It was during this time she found her voice through poetry.
Family
After her parents divorced, Maya and her brother spent their childhood going between the home of her mother and the home of her grandmother, otherwise known as "Momma." Though Momma owned a store in her segregated area of an Arkansas town, the family remained poor. It was through Momma's strength that she held the family together, and she encouraged Maya, urging her to control her fate through both hard work and courage. Momma also encouraged Maya to read as much as she could, which provided the critical foundation to her writing career.
Racism
Race and racism influenced Maya Angelou not just as a poet but as a woman and an activist. She found a way to combat this oppression in unexpected ways. In San Francisco she aspired to and ultimately became the city's first black streetcar conductor at the tender age of 14. While living abroad in the 1960s she met Malcolm X and came back to America to help him build his Organization of African American Unity. After Malcolm's assassination Dr. Martin Luther King recruited her as Northern Coordinator for the Southern Christian Leadership Conference. Tragically, he too was assassinated, on Maya Angelou's birthday in 1968.
Character
Running themes throughout Maya Angelou's poetry portray strength of character and unfailing perseverance. These testaments to her strength became a rallying cry for both African Americans and women in general. In Dr. Angelou's iconic poem "Still I Rise" she presents her own personal rise over her circumstances as an anthem for an entire race. Likewise, her strength and pride in womanhood in "Phenomenal Woman" helps break down the traditional standards of beauty, giving voice to self-confidence and female empowerment.
Photo Credits
Chip Somodevilla/Getty Images News/Getty Images