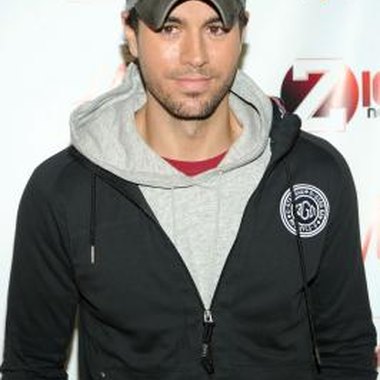 Enrique Iglesias doesn't wear his father's pants -- and for good reason. He doesn't need to. His Hispanic-European-American upbringing has led to a cross-cultural career as a pop culture mainstay, and at a time when Hispanic culture has grown in influence and productivity in the United States. In the midst of all the action, Iglesias has influenced culture in a way all his own.
Music Culture
Billboard.com sums up Iglesias' influence on music culture by saying that "at the dawn of the new millennium ... Iglesias was the best-selling Latin recording artist in the world." Far from being limited to the Latino brand of music, however, Iglesias has "crossed over" into mainstream pop music, reaching audiences across the United States and Europe. One noteworthy example is Iglesias' song "Hero," which, as noted in the book "Encyclopedia of Latino Popular Culture," became a national anthem of hope and healing after the 9/11 attacks.
Female Culture
Iglesias' mainstream appeal has influenced women in special ways. At his shows, Iglesias takes the initiative to invite women on stage for songs and smooches. When asked about this habit by Boston's radio station Kiss 108, Iglesias said, "I just get excited when I go on stage." Although he added, "I don't do it all the time." Iglesias' kissy behavior has had a strong impact on some women, with one woman saying that the night she was kissed by Iglesias was the best night of her life.
Gay Culture
His romantic on-stage behavior hasn't been limited to women, either. In 2007, Iglesias performed at London's G-A-Y nightclub, where he serenaded a gay man with the song "Hero." The reason, he said, was because he thought it would be fun, in spite of resulting rumors that he himself was gay, to which he says he's not. Not only did Iglesias invite the man on stage and sing to him, he also held his hand and hugged him.
Fashion Culture
"Spanish singers usually wear suits, but not me," said Iglesias in an interview with London's "Daily Mail" newspaper. Oftentimes, Iglesias can be seen wearing a casual t-shirt and baseball cap at his live shows, seemingly in part from his long-held aversion to clothes shopping and penchant for vintage or used clothing. His casual fashion preference broadens the spectrum of what a Latin pop star "should" look like, and comes with his belief that if you want to make an impression, don't be too "stylish."
References
"Encyclopedia of Latino Popular Culture"; Cordelia Candelaria, Peter J. García, Arturo J. Aldama; 2004
Photo Credits
Jason Kempin/Getty Images Entertainment/Getty Images