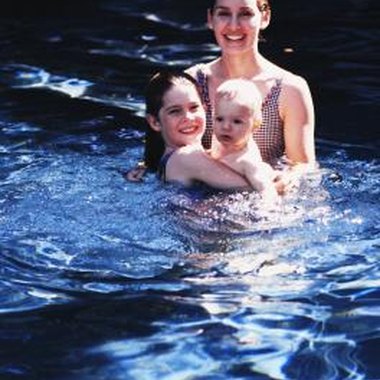 Infant swimming instructors use floating mats, toys and songs to stimulate babies' curiosities and gradually guide them through games that teach leg kicks, big arm movements and breath control. Parents watch in amazement as their children master floatation and balance, the building blocks of swimming. Wary parents should look for classes that do not accept more than ten infants per instructor. Water temperatures should be between 86 and 92 degrees, and a lifeguard should always be on duty.
Forest Hills
Forest Hills has two private clubs that offer infant swimming courses for babies as young as six months. The Forest Hills Jewish Center (fhjc.org) offers 30-minute courses through their Take Me to the Water (takemetothewater.com) program. Take Me to the Water enrollees can be assured that their babies are being taught the latest techniques because their instructors are members of the United States Swim School Association. The Forest Hills Community Center's (thecommunityhouse.net) Pamper Paddlers Swim Program attendees enjoy lessons in a pool that is inspected by the New York City Department of Health and is manned by an attentive lifeguard.
Bellerose
The Young Men's Christian Association of New York City (ymca.nyc.org) offers infant aquatic lessons for a one-time yearly membership fee at their Bellerose Cross Island facility on Queens' east side. Swim director Diane DiPeri helps babies understand the difference between navigating on land and on water. Parents are taught reasonable expectations for their infants. The Bellerose YMCA is accessible on the Q43 Hillside Avenue bus line, which can be transferred to from the F train's 179th station.
Jackson Heights
The Garden School (gardenschool.org) in Queens' Jackson Heights section hosts the Red Cross-certified infant swimming course Tiny Tadpoles. Tiny Tadpoles accepts infants as young as six months of age. Lessons are each 30 minutes long and are administered over a seven-week time period. Baby classes are given during mid-morning hours when the sun is high enough to warm up the outdoor pool but not so high as to cause sunburn. Babies are expected to wear water diapers and must be accompanied by parents at all times. The Garden School is accessible from the Jackson Heights-Roosevelt Avenue subway station.
Flushing
USA Pools of New York (usapools.com) sponsors a Mommy and Me swimming program for infants who have reached six months of age. Classes are held at the Flushing Meadows Corona Park Aquatic Center (usapools.com/flushingmeadows/), which has an Olympic-size pool divided for different swimmer level needs. Members of the center may enroll their babies free of charge. It is accessible on the Q48 Roosevelt Avenue bus line transferable from the Willets Point subway station.
Photo Credits
Stockbyte/Stockbyte/Getty Images