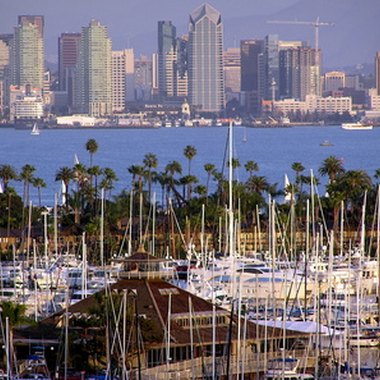 Inexpensive and San Diego are not usually captured in the same sentence, especially when talking about hotels, but the city does offer accommodations that can be bought for less than a ticket to Sea World. And with the balance of dreamy Southern California weather, endless white strands of beach and plenty of attractions to keep you busy, you won't be spending much time in the room. This collection of digs is not only wallet-friendly, but also offers an ambiance not found in similarly priced places.
Heritage Inn Sea World
Relax by the pool, watch Sea World's nightly firework show, and bask in the knowledge that you paid peanuts for a room at the Heritage Inn Sea World. One of the closest -- and most inexpensive -- hotels to Sea World, Heritage Inn offers an appealing exterior and comfortable interior. The average room price is less than $50 per night and includes other cost-saving amenities like free WiFi, complimentary breakfast and free parking. The hotel has a pool, hot tub, vending machines and laundry.
California Suites Hotel
This hotel offers a lavish swimming pool surrounded by an expansive garden, and the prices rarely break the $70 per night mark. Even the free breakfast spread goes beyond the basic with bagels, fresh fruit and espresso. The hotel's rooms are clean and comfortable, providing a microwave and refrigerator. While the location leaves something to be desired --15 minutes from the beaches, Sea World, San Diego Zoo and the airport -- California Suites Hotel is one of the best values in Southern California.
Beach Haven Inn
For the beach bum on a budget, the Beach Haven Inn is, well, a haven. A few footsteps from the Pacific Ocean, the hotel is set between Pacific and Mission beaches, two of San Diego's best. The hotel has a heated pool and WiFi in the lobby. Each room, whether standard or a suite, is a little different, adding to the homey feel of Beach Haven. Rates started at $79 per night as of 2010.
500 West Hotel
For the city-lover with limited funds, 500 West Hotel, a hybrid hostel-hotel, is the trendy pick. Just blocks from San Diego's Gas Lamp District, an area teaming with restaurants, shopping and nightlife, 500 West is the cheapest nightcap around. The hotel has its own kitchen, two lounges, laundry and WiFi, and guests have use of the YMCA gym for $5 per day. The property provides private guest rooms as well as hostel-style dorm rooms. Single room rates began at $45 per night as of 2010.
Mission Valley Resort
Situated in the center of Mission Valley, the hotel is an oasis of lush gardens minutes from downtown San Diego, Sea World, the beaches and Balboa Park. Mission Valley Resort's 202 guest rooms are well-appointed for a cost-conscious hotel. The hotel's outdoor space is where this property offers value, with three large pools, hot tubs, and pleasant seating areas surround by fine landscaping. The hotel has a sports bar, restaurant, meeting space, laundry, convenience store, and fitness center. Standard rooms start at $65 per night as of 2010.