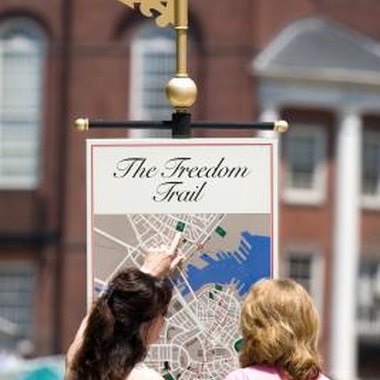 Boston's vibrant nightlife, museums, theater district and historic attractions appeals to young people, academics and college students. While these populations ]seek out budget lodging venues, visitors often discover that finding inexpensive hotels in Boston is even more challenging than navigating the city's irregular street patterns. But cheap Boston accommodations do exist; all quoted prices are valid as of November 2010.
Theater District Hotel
The Boston Theater district, along Washington and Tremont Streets between Boylston and Stuart Streets, boasts more than a dozen performance venues. The Charles Street location of the Milner Hotel places it one block from the theater district. An 1872 brownstone houses this budget hotel, whose rates begin at $79, include a waffle breakfast.
For Families Visiting Hospital Patients
The Midtown Hotel is located near Symphony Hall, Fenway Park and the Museum of Fine Arts. Rates begin at $109, but the hotel offers discounted rates, starting at $89, to people visiting friends or family members in the local hospitals. Advanced purchase rates rates, for all guests, are even cheaper. A 14-day advanced purchase costs $79 a night, and a 21-day advanced purchases costs $67 a night. Use code ADV 14 or ADV 21. The hotel has an outdoor pool, an in-house cafe and a beauty salon.
Near Boston University
The Farrington Inn is located in Boston's Allston neighborhood, which is close to Boston University and Boston College. This European style hotel has small rooms with shared baths, as well as apartment-style suites. Rates for single, shared bathrooms start at $45, and rates for larger rooms, with private bathrooms and kitchenettes, start at $105. Prices include parking, which is important in Boston, where overnight on-street parking is prohibited in some areas. The Midtown Hotel is pet-friendly; a $30-per-stay pet fee includes food, water bowls and treats. Crated dogs may stay in the room unattended.
Back Bay Boutique
High-end shops and restaurants line the streets of the Back Bay, Boston's trendiest neighborhood. People rarely use the words "inexpensive" and "Back Bay" in the same sentence, but the Hotel 140 is the exception to the rule. This hip boutique hotel shares the building with the Lyric Stage, and offers special theater packages for groups of 10 or more. Hotel 140 has a restaurant, a flower shop and a small fitness center. Rates begin at $139. Nightly rates for a Boston City Pass Package Deal are $169, and include lodging, a free breakfast at Duncan Donuts, and a Boston City Pass that includes admission to the Museum of Science, the New England Aquarium, the Museum of Fine Arts and other Boston attractions.
Hotels with Weekly Rates
The Copley House, also near Copley Square, provides a viable option for a one-week stay in Boston. Nightly rates begin at $95, and weekly rates begin at $600. Guests choose between small studios, medium studios, large studios and one bedrooms. All rooms have full-service kitchens, so when you deplete your dining-out budget, walk a few blocks to the Prudential Center and shop for groceries at Shaw's Supermarket.
Near the Waterfront
Those who know their American Revolution history will guess the location of the Constitution Inn. It sits in the Charlestown Navy Yard on the downtown Boston Waterfront, near the USS Constitution and the USS Constitution Museum. The Constitution Inn is actually a YMCA, but it looks more like a hotel. Rates begin at $117, but the YMCA non-profit status exempts guests from paying the hefty 14.45 percent hotel tax. Visitors also have full access to the YMCA full-service fitness facilities. Modernized Americana best describes the room decor, with floral bedspreads and wooden headboards.
Photo Credits
Jupiterimages/Photos.com/Getty Images