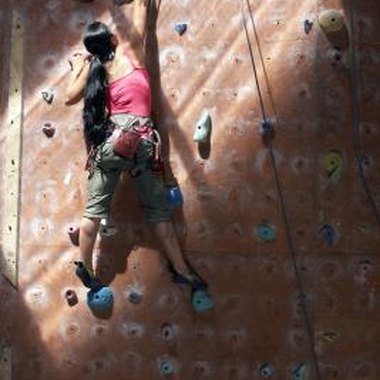 Indoor rock-climbing walls are designed to replicate the rock-climbing experience in nature. Indoor climbing walls contain thousands of handholds and hidden bolts for practically unlimited climbing routes. Indoor climbing is similar to sport climbing because it has bolts placed along a planned route. The planned route allows the climber to concentrate on performance and enjoying the thrill of the climb instead of plotting the best route to reach the top of the rock. One of the more attractive benefits of indoor rock-climbing walls is the climber is protected from inclement weather. In the Fresno, California, area, there is one indoor rock-climbing facility.
MetalMark
MetalMark (metalmarkfresno.com) is currently the only indoor rock-climbing facility located in Fresno, California. It is operated by Touchstone Climbing and Fitness (touchstoneclimbing.com). The climbing wall has a 40-foot lead wall with 12,000 square feet of climbing area. MetalMark has 2,000 square feet of bouldering area. The walls are assigned a climbing difficulty rating from 1 to 14, with 1 being the easiest route and 14 the most difficult route. MetalMark is located at Granite Park in Fresno.
Competitions
Touchstone Climbing and Fitness at MetalMark hosts a number of climbing competitions throughout the year. Bouldering, or free climbing, is a popular competition. Climbing competitions are free to enter for gym members. The competition includes climbing events for men and women in the beginners, intermediate climbers and advanced climbers categories. Competitions include games and refreshments for all participants. Prizes are raffled off at the end of the competition.
After-School Program
Climbing is a safe fitness activity for kids. MetalMark and Touchstone Climbing and Fitness offer after-school climbing for kids ages 6 to 14 with discounts are available for gym members. After school kids' climbing programs include instruction for knotting ropes, rappelling, how to use anchors, basic climbing skills and how to read the routes. At the time of publication, the after-school program is available from 4 p.m. to 6 p.m. daily.
Kids and Teens
Kids and teens ages 6 to 17 can take part in summer rock-climbing camps. The summer camps are open from June through August. Climbing campers can enjoy five days of instruction and climbing fun. Teen climbing clubs meet each week. Teen climbers, from beginners to emerging expert climbers, benefit from the welcoming social environment and learn safe-climbing techniques. Overnight activities can be arranged for groups, such as scout troops, school groups or church youth groups.
Photo Credits
Goodshoot RF/Goodshoot/Getty Images