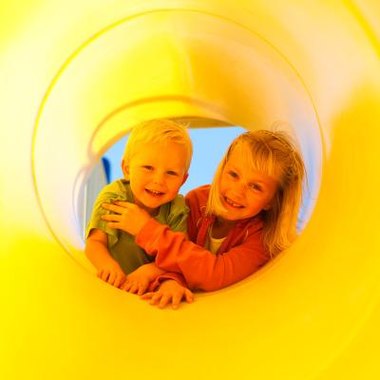 Indoor playgrounds are ideal for rainy or snowy days or for kids who are sensitive to outdoor allergens. From a practical standpoint, however, indoor playgrounds provide a safe and secure play environment, often with additional supervision not available at local parks. There are several indoor playgrounds for kids in Massachusetts.
Inside Playground
The Inside Playground (indooroutdoorplayground.com), located on Parker Street in Watertown, Massachusetts, is open seven days a week for indoor playtime. Kids can enjoy more than 8,000 square feet of play area. Children can climb on inflated structures, slide down slides, swing on the indoor swings and ride in play cars. Less-physical activities including books, puzzles, dolls and computers are also available. Walk-in playtime is always available with daily fees or yearly memberships.
Jam Time
The Boston, Massachusetts, area offers indoor play space at the Jam Time indoor play and enrichment center (jamtime.com). Jam Time offers a safe indoor place for children ranging in age from 3 months to 6 years. No membership is required and walk-ins are always welcome. Jam Time features indoor inflatables, climbing structures, baby play areas, a ball pit and much more. Classes for children and their parents, as well as coffee and snacks, are available at a fee.
Imagination Island
Another indoor play area near the Boston area is the Imagination Island indoor play center (imaginationislandusa.com). More than 5,500 square feet of indoor play await children between the ages of 1 and 8. Adults are welcome and encouraged to play with their children. Imagination Island offers climbing structures, an inflatable bounce house, Lego building areas, puppet theaters and more. Party packages are also available at Imagination Island. You can purchase daily play passes and memberships.
Kids Club Fun Land
The Kids Club Fun Land, southwest of Boston in Norwood, Massachusetts, is open seven days a week to the public and provides an indoor playground for children of all ages (kidsclubfunland.com). Story mazes, slides, air pillows, video games and kiddie rides are available. Kids Club Fun Land offers birthday party packages that include use of all of the indoor play areas as well as food, tokens for games and rides and access to the party room and the two-story indoor playground. Socks must be worn at all times by children and their playing parents.
Photo Credits
Brand X Pictures/Brand X Pictures/Getty Images