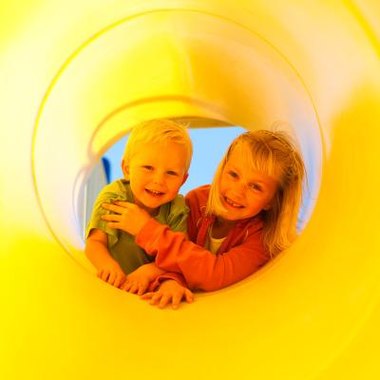 Indoor playgrounds afford parents the opportunity to let kids play in a secure, indoor area and blow off some built-up energy. Akron, Ohio is home to an array of indoor playgrounds. Many of these indoor attractions offer climbing tunnels, indoor slides and padded flooring to protect against injuries when falls occur.
Fun-N-Stuff
In the suburb of Macedonia, 15 minutes' drive from the heart of downtown Akron, Fun-N-Stuff (fun-n-stuff.com) offers an array of indoor attractions for children of all ages. In addition to the indoor bungle center and climbing wall, Fun-N-Stuff offers Kids World, a castle style indoor play area designed for children 48 inches tall and under, which features a bounce house, ball pit and climbing areas for young children.
My Amazone
In the suburb of Medina 20 minutes outside of downtown Akron, My Amazone (myamazone.com) offers indoor play areas in a tropical themed setting. The playground features kid-friendly zip lines that allow children to guide across open waters, waterfall slides, climbing bridges and a three-story playhouse. The facility also offers a big screen projector and couch area featuring child-friendly animated children's movies and programming. The facility is also available for rent for birthday parties and private events.
Party Animals
Five miles outside Akron in Cuyahoga Falls, Party Animals Indoor Fun Center (partyanimals-fun.com) offers over 6,000 square feet of indoor play area. The facility features a variety of bounce-house style attractions, is open to schools and day-care facilities, and offers private party facilities for birthday parties and events. Age appropriate play facilities are available for children 10 and younger, as well as kids 11 and older.
First Christian Church Playland
In the suburb of North Canton, 10 minutes outside of the heart of Akron, First Christian Church Playland (no website; 6900 Market Ave., North Canton; 330-456-2600) is an indoor playground open free to the public. The facility features a four-level play area complete with slides, stairs, climbing tubes and a designated area for toddlers 2 and younger. The play area is also open for private rental to accommodate birthday parties and private events.
Photo Credits
Brand X Pictures/Brand X Pictures/Getty Images