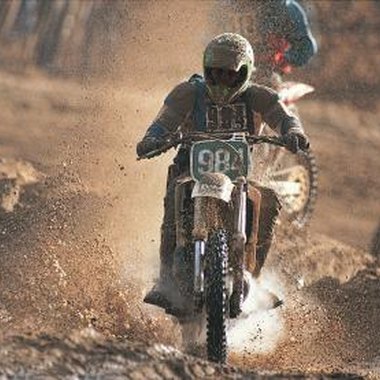 The speed and thrills of dirt bike riding can make it an exciting experience in the summer, rain or shine. While the elements add to outdoor track fun during the warm season, indoor facilities provide a better experience during the winter months. Dirt bike fans in Ohio have a few different options when they decide to experience indoor dirt bike riding.
Ram Jam Sportsplex
Located in the city of Lorain in northeast Ohio, the Ram Jam Sportsplex (ramjamsportsplex.com) provides indoor track facilities for motocross, supercross and arenacross riders. Spread over 70,000 square feet, the six-lane track offers open practice sessions for all from November to April, as well as private track rental and lessons at any other time. Amenities include heated indoor pits, bike storage, a changing area and lockers for riders. Spectators can watch the action from a heated concession area.
NEMX Indoor Motocross Complex
Also located in northeast Ohio, at Andover, the NEMX Indoor Motocross Complex (nemx.webpointusa.com) has an indoor track which extends over an area of around 65,000 square feet. The track is suitable for both quad vehicle and dirt bike riders and facility amenities include indoor pitting for vehicles, a heated spectator room and bleachers. The facility opens for winter season around November each year. Private rentals are available on Mondays and Tuesdays and open sessions run during the remainder of the week. The track is available for private rental outside the winter season.
Ohio Motocross Arena
Located in northwest Ohio, the Ohio Motocross Arena (ohiomotocrossarena.com) is in the village of Anna. This indoor track for dirt bikes and quads generally opens for business in the first weekend of November each year, with the season running until the end of March. During this time the facility stages open riding sessions for all, generally on Wednesdays and on Fridays through Sundays. The facility also offers private rental at times other than open sessions. Amenities include heated pits for riders and crews and bleachers for spectators.
Big Horn Indoor MX
Dirt bike riders in central Ohio can use the Big Horn Indoor MX (bighornindoormx.com) track located in Martinsburg. This facility operates from November to April, with open riding sessions for all available from Thursday to Sunday each week. Amenities at the track include heated pits for riders and a heated viewing area for those that want to take in the action.
Split Rails SX
Located in southeast Ohio at New Concord, the Split Rail SX Indoor Track (splitrailsx.com) riding season runs from November to April. Scheduled practice sessions for any rider generally take place on Tuesday, Thursday and Saturday, with the track available for private rental at other times. The track features a new design each season.
Henderson Arena
Henderson Arena (hendersonwestern.com) is located in south central Ohio, close to the city of Jackson. Primarily used for equestrian events during the summer, this facility stages motocross events during the winter months. Both Hot Rods MX Racing (hotrodsmxracing.com) and American Motosports (americanmx.com) stage dirt bike events in the arena as part of their race series.
Photo Credits
Digital Vision./Digital Vision/Getty Images