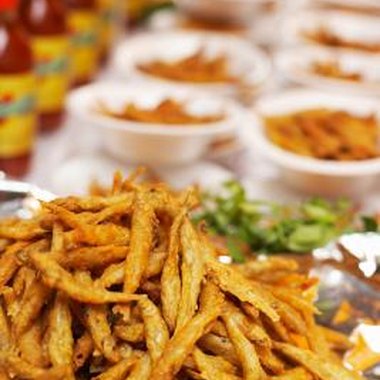 Smelt are an introduced species of bait fish common in lakes and rivers across the United States. There are many varieties of smelt. The rainbow smelt is plentiful in Lake Michigan off Indiana's northern coast. Smelt can be eaten or used as bait. The state of Indiana has implemented special fishing privileges within state parks for smelt fishing enthusiasts. Some smelt fishers catch smelt and cook them on the shore over an open flame.
Indiana Dunes
Dunes State Park is in northern Indiana in Porter County. The southern shore of Lake Michigan borders on the park and provides boating, camping and smelt fishing. Smelt is the only fish that visitors may fish for in Lake Michigan from Dunes State Park waters. The Dunes has more than 15 miles of clean, sandy beaches. Smelt fishers may purchase permits to build fires on the beach for cooking and to keep warm.
Smelt Fishing Rules
Smelt fishing in Lake Michigan and in Oliver Lake in LaGrange County, Indiana, is restricted to a short season. Fishers can catch smelt only from March 1 through May 30. Fishing is allowed only by using a single seine or net. The seine or net can be no more than 12 feet long and 6 feet deep. The mesh can not stretch larger than 1 1/2 inches. Dip nets may not exceed 12 feet in diameter.
Rainbow Smelt
The rainbow smelt is a non-indigenous fish that was introduced into the waters of Lake Michigan. Rainbow smelt eggs or live fish were probably introduced into Lake Michigan by anglers using them as bait fish. It is a small, slender fish with a pale green dorsal area. The sides of the fish are iridescent blues, pinks and shades of purple. The rainbow smelt rarely grows larger than about 3 ounces and 9 inches long.
Fishing License
Smelt fishers over the age of 18 must have a fishing license in Indiana. A license is available at many local retailers or by visiting the Department of Natural Resources center at 402 West Washington Street in Indianapolis. Smelt fishers may buy a fishing license online at IndianaOutdoor.IN.gov or purchase one by mail. Send a personal check, money order or credit card information for the fee with your name, driver's license or Social Security number, address, and height, weight, hair and eye color to the licenses division of the Department of Natural Resources in Indianapolis.
Photo Credits
Jupiterimages/Photos.com/Getty Images