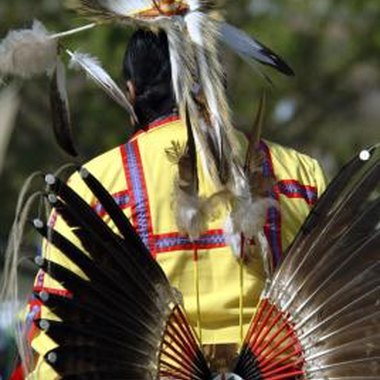 New Mexico is home to 22 Native American Indian tribes including the Navajo, Apache and Pueblo cultures. These Native American tribes offer a variety of events each year that are open to the public and there are resources offered for download created by the New Mexico Tourism Department as part of the Indian Tourism Program. There are times when reservations will be off-limits to outsiders, such as private tribal events or ceremonies, but if planning in advance you may fit open events into your trip itinerary.
Visiting Indian Reservations
It is important to remember that the reservations are home for many Native Americans and when visiting a reservation you should maintain the same professionalism and courtesy you would display when visiting someone's home. A guide for visitor etiquette is available through the Indian Tourism Program. Widely advertised events and other attractions are often meant for tourists and visitors, but the rules for the events may vary so ask before using a video camera, taking photos or any other behaviors that may be offensive or restricted.
Jicarilla Apache Nation
Spanish for "little basket maker," the J in Jicarilla is pronounced like an H and the double-L is pronounced like a Y. Located in northern New Mexico on US 64, the Jicarilla Apache Nation has a culture center and craft shop as well as other attractions for tourists. Lodging in the area is offered by the Jicarilla Best Western Inn and the Apache Nugget Casino is a popular gambling spot for visitors while staying there.
Ohkay Owingeh
Ohkay Owingeh is located on State Road 74 and north of Espanola. Formerly called the San Juan Pueblo, the traditional title of the Tewa people is "Oke Owingeh" which means "village of the strong people." Visitors are welcome at Ohkay Owingeh and entertainment ranges from traditional arts, such as redware pottery and painting, to guided tours and events. Advanced notice is required for guided tours. The Ohkay Casino Resort Hotel, Ohkay Travel Center, Best Western Hotel and other facilities are convenient to the attractions and there is also a nearby RV park.
Zuni Pueblo
The Zuni Pueblo is located south of Gallop, New Mexico and tours are offered, starting at the Zuni Pueblo Visitor Center. Historic sites and the Middle Village are part of the tours, as well as workshops and local attractions. With advanced notice, traditional food can be prepared and offered with the tour. The A:shiwi A:wan Museum and Heritage Center is a popular tourist attraction with a Hawikku ancestral village exhibit permanently established. Lodging may be found at the Inn at Halona Bed and Breakfast.
Photo Credits
Jupiterimages/Photos.com/Getty Images