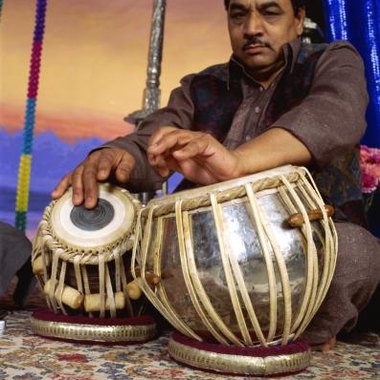 The oldest musical traditions of instrumental and vocal music originated in India. Research of the classical music of India shows a vast amount of influence from different cultures. As an important part of Indian culture, music remains the center of many festivals and other events. The earliest Indian music is traced back to the hymns in Hindu temples nearly 2,000 years ago. Musical events in India often focus on a religious figure or celebration. Art, dance, drama and poetry performance also accompany the music.
Traditional Recital
Because Indian music passes on to other generations through an oral tradition rather than notation, recitals provide grounds for continuing the tradition. Drummers, who usually play the tabla, or a two-piece drum, accompany a vocalist. Instrumental recitals feature traditional instruments like the sitar, a guitarlike string instrument. Even when performers improvise, they use a complex system of scales and rhythms, each of which has a specific meaning or emotion attached to it. Musicians who perform traditional recitals go through years of training and preparation.
Religious Festivals
Music in India often expresses devotion to a religious figure. The Thyagaraja festival, held in January or February, is an annual event that features champions of Carnatic music, or the tradition of south India, and celebrates the memory of the saint Thyagaraja. India has much cultural diversity; groups of people follow many different religions. Festivals and events for the Hindu, Muslim, Sikh, Jain, Christian, Buddhist, Sindhi and Parsi faiths include music. For example, the Muslims celebrate the Shab-e-Miraj; worshipers gather in the temple to sing hymns to the holy prophet of Islam.
Classical Festivals
The Tansen Music Festival honors Miyan Tansen, a contributor to Indian classical music; instrumentalists and singers gather to celebrate this event that takes place at Tansen's tomb, usually in November or December. The Sawai Gandharva Sangeet Mahotsav historically gave rise to popularizing public performance of classical music; it is held for three days in the month of December. One of the most important cultural events in India is the ITC Sangeet Sammelan, which highlights the best performers of classical music. The Dover Lane festival promotes classical music and is a favorite among music lovers.
Modern Festivals
Leading musicians and artists take part in the Saptak Music Festival, initiated by Ravi Shankar in 1980. It lasts 11 days and starts during the first week in January. The festival features folk music and dance groups that blend the old traditions with the new. India has a rich history of making films; the Bollywood industry is bigger than Hollywood. Musicals make up the majority of Bollywood films. Almost all of the films include at least one song-and-dance number that combines traditional, folk and Western styles of dances. Many modern festivals and performances revolve around Indian film music and include instrumental, vocal, dance and fusion performances. Popular music, including R&B;, rock, indie-pop and metal shows also are performed.
Resources
Photo Credits
Creatas/Creatas/Getty Images