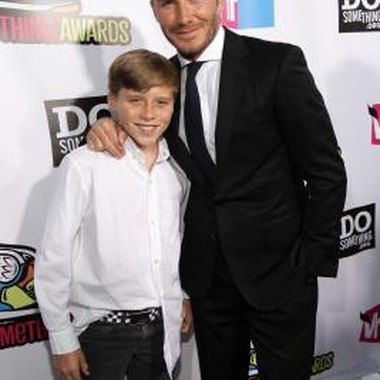 David Beckham, the famous soccer player and husband to the Spice Girls' Victoria Beckham, grew up in England under the parental guidance of two avid Manchester United supporters. Through their wise council, and with hard practice, raw talent and perhaps a small stroke of luck, Beckham found himself playing as a trainee with Manchester United at the age of sixteen.
First Contact with Manchester United
When David Beckham was twelve years old, his family was contacted by scouts from Manchester United who had heard of Beckham's keen skill with the ball. He went to Manchester United's summer workout sessions every year for four years until, at the age of sixteen, he was recruited as a trainee for the team.
Deal with Adidas
After Beckham's rise to fame, he was showered with endorsement deals. Some he accepted, some he rejected, but the largest of them all was a deal with Adidas to produce a line of products with Beckham's name on them. This deal netted him millions, turning him into a multimillionaire overnight.
Family
In 1999, shortly after the Adidas deal, David and Victoria Adams were wed. David and Victoria Beckham have four children: Brooklyn, Romeo, Cruz and Harper. Brooklyn was born in 1999, Romeo in 2002, Cruz in 2005 and Harper in 2011.
1998 World Cup
In a vicious battle to stay in the running for the world cup, England found themselves pitted against the fierce Argentinian national club. The two nations had long been rivals, and England wanted nothing more than to beat Argentina. When Beckham lashed out in anger at another player, and was ejected from the game, England found themselves fighting a losing battle. It was Beckham's first red card, and he was devastated when he learned that the team had lost. He returned home to his home country not loved, but hated.
Redemption
After Beckham's fall in the 1998 World Cup, the tabloids were full of vitriolic words regarding his behavior. However, Beckham was afforded the opportunity to make up for his past blunders against Argentina in the following season. During the 1998-1999 season, Beckham helped lead Manchester United to a triple cup winning season -- taking the Premiership, FA Cup and the European Cup. He was named "Best Midfielder" and "Most Valuable Player" for his performance.
References
Photo Credits
Christopher Polk/Getty Images Entertainment/Getty Images