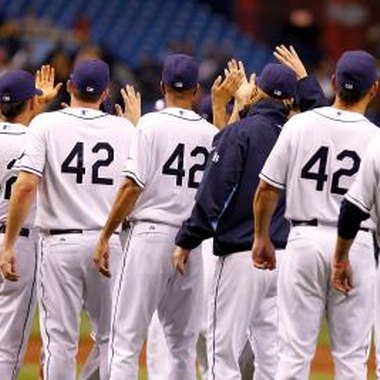 Jackie Robinson changed the game of baseball forever by signing with the Brooklyn Dodgers in 1947. He not only integrated a racist sport but also began to change American's views toward African-Americans. Branch Rickey, the general manager of the Dodgers, believed in equality and saw an opportunity to change the game, and America, by putting Jackie Robinson up to bat.
Minor-League Play
Robinson played professional baseball starting in 1944 on a Negro League team -- all baseball was segregated at this point. However, Branch Rickey soon picked Robinson to be one of the first players to integrate Major League Baseball. In 1945, he joined the Montreal Royals, an all-white farm team for the Brooklyn Dodgers. He begin spring training in 1946 in Florida with the team. Robinson had an outstanding year with the Royals and proved he was skilled enough to play with the Brooklyn Dodgers.
Significance
Rickey knew it would be tough for Robinson, being the first African-American player to be a part of a major-league team. After all, on April 15, 1947, he was making statement about race integration eight years before Rosa Parks refused to give up her seat, commencing the Montgomery Bus Boycott, and 17 years before Congress would pass any sort of Civil Rights legislation. Rickey also knew that if Robinson did not behave properly -- if he lashed out, became violent or couldn't deal with the abuse of the fans -- that opponents of integration would use him as an example of why segregation was the right choice.
Racial Tension
It was not easy for Robinson to stand at home plate and hold a bat as the first African-American player in Major League Baseball. Fans called him nasty names, and even members of his team were uncomfortable with the idea of having him as a player. Harassment continued as the season wore on, but Rickey and Dodgers manager Lou Durocher stood up for Robinson. If players expressed discontent with Robinson's presence, Durocher stated that he would rather trade them then lose Robinson. Despite having to play through tough conditions, Robinson was named the National league's Rookie of the Year in 1947.
Impact
Robinson used the significance of his position to fight for civil rights. He publicly drew attention to the Yankees for still not breaking the color barrier in 1952, five years after Robinson began playing. Prominent civil rights leaders continue to give credit to Robinson for the courage and civility he demonstrated in 1947 and after. For example, Martin Luther King Jr. said, "Jackie Robinson made it possible for me in the first place. Without him, I would never have been able to do what I did." Jackie Robinson was the first African-American inducted into the Baseball Hall of Fame in 1962. In 1997, on the 50th anniversary of his integration of organized baseball, Major League Baseball retired his number 42 in perpetuity for all teams.
References
"Jackie Robinson: Race, Sports, and the American Dream"; Joseph Dorinson and Joram Warmund;1999
Resources
Photo Credits
J. Meric/Getty Images Sport/Getty Images