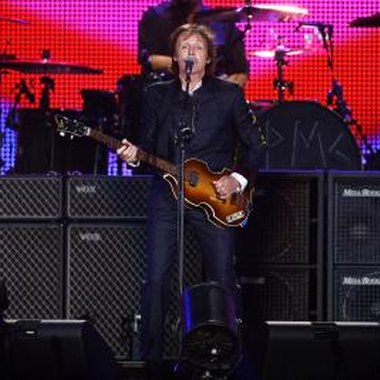 The Beatles will, no doubt, be remembered as one of the most popular and influential groups in pop music history. The dozens of number one hits, the increasingly more daring and experimental albums, the memorable films and the four diverse yet engaging personalities of Paul McCartney, John Lennon, George Harrison and Ringo Starr all add up to a potent legacy. The group's importance was felt, and continues to be felt, in several areas.
Music
Naturally, The Beatles are best known for their music. Not only did they have a large number of hit songs, but their music also evolved very rapidly through the group's brief career, embarking on territory not previously explored by pop music groups. Released in 1967, "Sgt. Pepper's Lonely Hearts Club Band" was a huge breakthrough album in pop music with its use of orchestras, harpsichords, circus sounds and other effects that were largely created in the studio. No longer did pop groups just have to be guitars, a bass, drums and vocals -- nor were they limited to what could be performed live. It was no longer just about writing catchy hooks and songs about love like "She Loves You" and "I Want to Hold Your Hand." Some of The Beatles' most notable experimental creations include "I Am The Walrus," "Tomorrow Never Knows," "Lucy in the Sky with Diamonds" and "Come Together."
Fashion
After The Beatles emerged in the early 1960s, their fashion style was soon adopted by young people around the world. Their suits, Cuban-heeled boots and mop-top haircuts, chosen mainly by Brian Epstein, their manager, became staples of youth culture. The Beatles would later take more control over their look after Epstein's death. Going along with the changing culture of the time, in the late 1960s, The Beatles adopted facial hair, bright hippie clothing and long hair.
Religion and Indian Culture
Through George Harrison's emerging interest in meditation and Indian culture, The Beatles began to explore non-Western religion, which influenced their fans and other artists to do so, too. After learning the rudiments of the sitar from Indian master Ravi Shankar, Harrison added its distinctive sound to "Norwegian Wood" and then other Beatles songs, making it a staple of 60s popular music. Later, The Beatles traveled to India to learn meditation techniques, and this experience had an effect on their music and mood. In addition, John Lennon's infamous comment that "The Beatles are more popular than Jesus" sparked much controversy, leading to fans in the United States boycotting their performances and burning their albums.
Other Media
Although The Beatles are primarily known as musicians, they appeared in several other media outlets. In the first half of the 60s they were regulars on television shows, performing their hit songs and clowning around with the hosts. They made key appearances on "The Ed Sullivan Show," which helped their popularity skyrocket in the United States. The Beatles also made several movies, further linking up pop music and film, including "Help!," "A Hard Day's Night" and "Magical Mystery Tour." In recent years The Beatles have appeared in other media, such as video games, with their own version of the game "Rock Band." Also, their music was adapted for a Cirque du Soleil show titled "LOVE."
Photo Credits
Neilson Barnard/Getty Images Entertainment/Getty Images