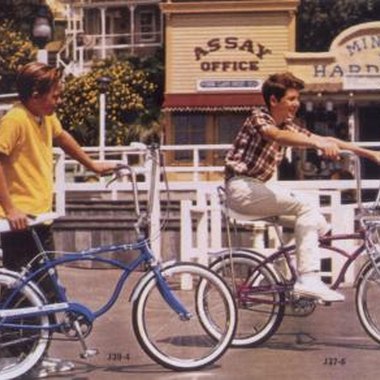 Schwinn bicycles are American classics, synonymous with durability and quality. The Schwinn was the first bicycle to have an inflated tire and saddle seat for a smooth, enjoyable ride. The classic cruiser has rounded curves in the frame that are easily distinguished; mountain and racing bikes have a diamond frame. A Schwinn can always be identified by finding the bike's serial number and cross referencing the number with known Schwinn serial numbers.
Step

1
Observe the frame of the bicycle. Look for the arched D-shape bar in the middle of the frame typical of Aerocycles, Cruisers and Sting Ray lines. Other Schwinn styles have an S-shaped frame. Speed and mountain bikes have a triangle shaped frame and are more difficult to identify as Schwinns by appearance alone.
Step

2
Note whether the name Schwinn is written on the frame of the bike. Check the coaster break arm for embossing of the Schwinn name. The Schwinn name may also be embossed on the side of the seat in some models.
Step

3
Look for the serial number on the left or right rear axle mount, lower end of the head tube and bottom bracket shell. Each decade of production stamped the serial number in a different location. Factory records for serial numbers are not available prior to 1948 because of a factory fire that destroyed the Schwinn records. However, a couple of online databases are available for cross-referencing Schwinns made after 1948. Visit old-roads.com or re-cycle.com to cross reference the serial number to identify the year and make of the Schwinn.
Photo Credits
Getty Images/Getty Images News/Getty Images