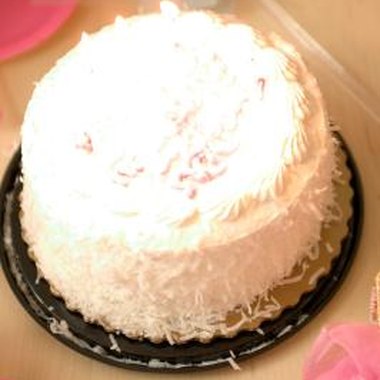 A February birthday might mean that your guests have to walk through snow or rain to get to the party, but you can use the winter season as inspiration for your 2-year-old's birthday celebration. A winter wonderland theme offers a variety of creative decorating and food options, as well as the chance to keep things cozy indoors.
Polka-Dot Decor
Polka-dot themed decor provides a youthful ambience that is appropriate for a 2-year-old's birthday party. Polka-dots are also an acceptable decoration option for a winter birthday because they simulate the look of snow falling from the sky. If you plan to use polka-dots as your February theme, decide whether you want them to be colorful or muted, wintery tones, such as white and silver. Incorporate polka-dots into the party's accents, such as napkins, plates, streamers, balloons and dessert.
Penguins
Young children are fascinated by animals; maintain a winter theme for a February birthday party by incorporating penguins into the party festivities. Have one of the adults at the party dress up like a penguin and provide the entertainment. Decorate the room by placing stuffed penguin animals around. Top the birthday cake with miniature penguin figurines. Maintain the penguin theme by blowing up white and black balloons and using white and black streamers across the ceiling. You can also decorate the room by making an igloo out of white Styrofoam bricks.
Snow Princess
If you are celebrating the birthday of a 2-year-old girl, turn her into a snow princess. Create an all-white decorating theme and dress the birthday girl in a white tulle princess dress with a tiara. Make the indoor environment frilly and feathery with white and silver tinsel, boas and fake snow. For the birthday cake, coat the white icing with shredded coconut to make the cake look snowy. Decorate the ceiling with white balloons, or hang giant snowflakes that are painted with white glitter. As a table centerpiece, put together skewers of large white marshmallows displayed in a clear or white vase, along with clear rock-candy lollipop accents. If you wish to add some color to your snow princess theme, icy blue works appropriately.
Valentine's Day-Inspired
Since your 2-year-old's birthday falls in the same month as Valentine's Day, use the Valentine's Day theme and work it into your birthday party ideas. A heart-shaped cake, red and pink accent colors and clothes with heart patterns can make your child's second birthday an adorable sight. Decorate with small heart candies and other Valentine's Day treats.
Photo Credits
Jupiterimages/Photos.com/Getty Images