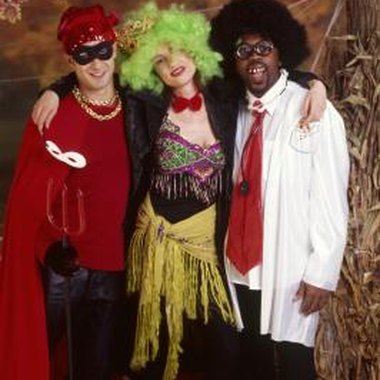 While children can enjoy trick-or-treating on Halloween, adults often miss out on the fun of dressing up. A Halloween party, however, allows teenagers and adults to partake in Halloween festivities such as dressing up in costumes and eating festive treats. To help guests get into the spirit and choose costumes, create a theme for your Halloween party. Use decorations to turn your home into a haunted house and designate a theme for the party. You can send invitations to guests asking them to arrive wearing a costume in keeping with that theme.
The Addams Family
Decorate your home as a ramshackle mansion and decorate your yard as a cemetery. In the party invitations, ask your guests to come dressed as their favorite Addams Family character. Provide a list of characters to help guests who are not familiar with the series or who need help choosing a costume. There are several characters of different ages and genders featured in The Addams Family: Gomez, Morticia, Grandmama, Uncle Fester, Cousin Itt, Lurch, Pugsley and Wednesday. Serve your guests morbid refreshments such as a panna cotta and gelatin brain mold (See Resources) and "poison punch."
Ghosts
For a ghost-themed party, decorate your house as a funeral parlor or a haunted mansion. Depending on the weather in your area, you could also host an outdoor party in a yard decorated as a cemetery. In the party invitations, ask your guests to arrive dressed as ghosts. When choosing a figure to portray, guests can select from deceased historical figures, fictional ghosts or ghosts of their own creation. Serve themed party foods like "Jell-O ectoplasm" and pea soup.
Vampire
To create a vampire-themed party, decorate your home as a decrepit mansion. In the party invitations, ask guests to arrive dressed as vampires. Vampire lore is so old and diverse, guests will be sure to have a variety of interpretations on the theme. Your party will likely feature classic costumes based on Bram Stoker's Count Dracula, humorous ones such as Count Chocula and contemporary costumes based on popular vampire fiction for young adults. Serve your guests red wine, sangria or fruit punch under the label of "fresh blood."
Zombie Apocalypse
To create a zombie apocalypse-themed party, decorate your house as a hospital or a fallout shelter. In half of the invitations, ask guests to dress in zombie costumes. In the other half, ask guests to come dressed in hospital or army costumes. When your guests arrive, you can play games along the theme of the zombie apocalypse with the guests divided into two teams: the zombies and the last remaining civilians. Serve food based on the party theme. For a dinner party, consider a main course like "blood and guts spaghetti." For a cocktail party, serve light fare such as lady finger cookies with icing nails and knuckles.
References
Photo Credits
Creatas/Creatas/Getty Images