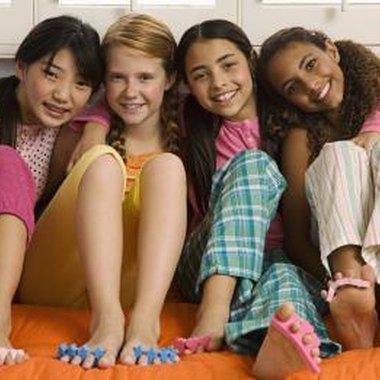 Eight-year-olds enjoy spending time with friends, and a sleepover party with a few of their best friends will be a sure hit. Sleepover parties offer a winning option either for a birthday party or as a fun get-together. In addition to the requisite food of burgers, hot dogs, cake and ice cream, traditional ideas such as movies and video games usually score a big hit with 8-year-olds. Several ideas work well for children of either sex.
Pampering: Girls
Girls this age are just starting to enjoy pampering, such as nail polish and makeup. They can spend the evening giving each other manicures and pedicures with some adult supervision. You could even offer a prize for the most creative manicure/pedicure. The girls can also give each other facials, play with makeup and curl or straighten hair.
Journal Crafts: Girls
Altering or decorating a journal doubles as both a craft and a party favor the girls can take home with them. They can paint a composition book or cover it with scrapbook papers. Use a liquid adhesive or even glue sticks to adhere the paper to the composition book. Decorate the paper prior to adhering with additional layers of paper, flowers, bling jewels, stickers, stamps, paint or ink. The girls can use the journal as a diary or for school.
Karaoke: Boys or Girls
A karaoke machine and plenty of songs will keep children singing late into the evening. They will enjoy all types of music ranging from the "oldies" like Elvis or Chuck Berry to current favorites featured in movies. Supervise this activity so the kids take turns and don't become too wild.
Games: Boys and Girls
Children of either sex will play all types of games. Sports themes, such as miniature golf, hula hoops, swimming, water guns, Nerf guns and Frisbees provide outdoor time for children and help to tire them out when it's time for bed. Large group games like a dance contest or a group scavenger hunt help the kids work in teams and provide another creative party option.
Create Your Own Food: Boys and Girls
Boys and girls alike will enjoy baking their own pizzas, complete with a variety of toppings. Depending on the number of children who attend, each guest can make a mini pizza with his personal favorites such as pepperoni, sausage, peppers, cheeses, mushrooms and onions. A sundae bar for ice cream offers a similar theme. Kids can put on their own toppings ranging from flavored syrups and chocolate-covered candies to bananas, strawberries and sprinkles.
Photo Credits
Jupiterimages/Brand X Pictures/Getty Images