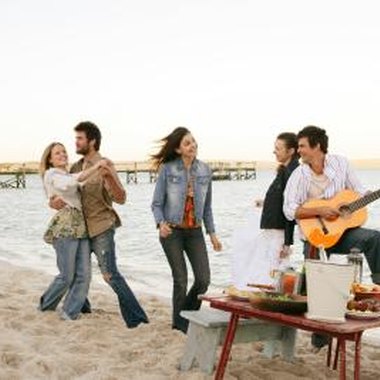 One way to make your next party memorable is to move your venue to the beach. Once you have decided to hold your celebration by the sea, customize every aspect of your party to fit the venue. Remind your guests that they will be walking in sand, so they should wear sensible shoes. Provide sunscreen and plenty of shade for the duration of the party.
Night-time Luau
Create a luau-themed party by the sea with tropical invitations, decorations, food, drinks and entertainment. Send invitations with Tiki heads, leis or palm trees. Set the mood for your luau by draping the serving table with inexpensive grass skirts, and fashioning centerpieces of birds of paradise, hibiscus flowers and palm leaves. Tiki torches set in the sand around the tables give off a warm glow and keep the bugs away. Offer dishes of pork and pineapple, coconut shrimp and fruit kabobs to keep your food true to the luau theme. Serve tropical drinks in Tiki mugs. Hand out leis for your guests to wear and hire a ukulele player to lead your guests in an impromptu hula dance.
Nightime Cocktails
A cocktail party by the sea is an occasion for your guests to dress elegantly, but advise them to wear flat shoes so they can dance in the sand. Set up a makeshift bar surrounded by roll-out bamboo fencing. Hang paper lanterns from lines strung between poles. Offer tropical fruit bellinis, margaritas, pina coladas and strawberry daiquiris – make virgin as well as alcoholic versions for your quests. Serve beach-themed hors d'oeuvres such as oysters on the half shell, shrimp/chicken kabobs, coconut-crusted crab cakes and tropical fruit salad in tiny glass bowls. Play romantic dance music for your guests to dance barefoot in the surf under the stars.
Child's Birthday Party
Write the party invitation on a deflated beach ball and send for your invitees to blow up and read. Hold the party under a tent or pavilion so children have a shady place. Hang inflatable beach balls, swim rings and small floatable toys from the ceiling and cover the tables with blue cloths. Set plastic fish bowls on the tables and fill with sand, shells and goldfish. Serve chewy sharks and fish as snacks. Make a bundt cake covered in blue icing with small teddy bear-shaped cookies painted with colored icing bathing suits. Sprinkle peppermint ring candies on the cake to simulate life preservers. Lead the party guests in making an ocean in a bottle by filling empty water bottles with a mixture of half water and half vegetable oil tinted with blue food coloring. Place a small glitter and one plastic toy shark in each bottle.
Dinner at the Shore
Throw a casual dinner party by the sea adding the comforts of home to the setting for your guests. Set pillows on chairs and benches, fill votives with candles for mood lighting, and set vases on the tables with fresh tropical flowers and grass fronds. Glass dinnerware and goblets will sparkle in the glow of votives and hanging patio light strings. Serve fruit salad in plastic beach pails, shrimp cocktails in champagne glasses, grilled salmon, fresh coconut cake and key lime pie.
Photo Credits
Goodshoot/Goodshoot/Getty Images