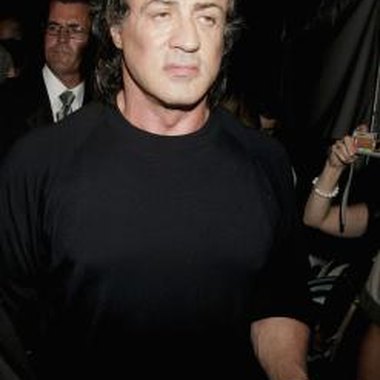 "Rocky" is still iconic, well past its 1976 release. It details the story of Rocky Balboa, a common boxer who, through strenuous and unconventional means, gets the opportunity to fight the champion, Apollo Creed. Baby-boomers and Generation Xers alike relate to this classic underdog story. Using this entertaining and exciting movie as a party theme has tremendous possibilities.
Wii Boxing Tournament
Nintendo Wii Boxing games are a natural fit for a boxing themed party. They are realistic and require participation that generates group interest in a way other games do not. It is easy to arrange a round robin boxing tournament to facilitate a large crowd and it looks especially good on a multimedia projector, which can be rented at most rental stores.
Costume Party
Dress as your favorite Rocky boxer. There are few things more entertaining than seeing your spouse dressed in Adrian's Rocky I glasses and awkward outfit. Apollo Creed's American flag outfit and dance in Rocky IV, despite being a picture of his overconfidence leading to his demise against the steroid-infused Russian, makes for a fun outfit. Picture Aunt Edna with a faux-hawk dressing as Mr. T's character Clubber Lang from Rocky III. The potential is there for some fun times and some great Facebook posts later. There are 1980's soundtrack CDs available to complete the atmosphere.
Boxing Fun
Many inflatable bounce house providers offer boxing rings equipped with inflatable or overstuffed boxing gloves and head gear. This is an option for preteens up to adults. It offers an opportunity for excitement and exercise as well as a chance to hit that co-worker that you have always wanted to whack. Themed pinatas and attempting to box blindfolded would be quite funny as well.
Other Potential Options
The six Rocky movies would provide a party with a movie marathon that would cover nearly every daylight hour. While few movie fans are devoted enough to spend an entire day watching Rocky bashing and getting bashed, some would make this an all night treat after the other party festivities. Rocky trivia games are certainly an option for this cult hit. Perhaps a quotation game called "Who said it -- Rocky Balboa, Judge Dredd or Rambo?" would make for some fun Stallone fan banter. Rocky karaoke, the later in the night that it starts, is sure to entertain.
Resources
Photo Credits
Patrick Riviere/Getty Images Entertainment/Getty Images