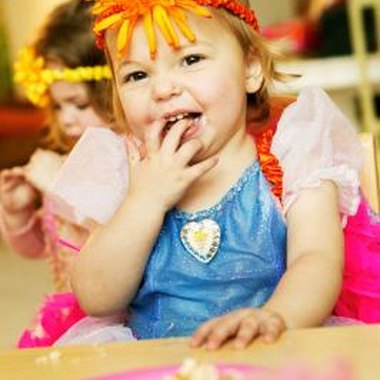 Planning a toddler party can be a vexing task. This age group is too young for many birthday party activities, such as bowling, and too hard to keep corralled and safe at places such as a swimming pool. Torrance, luckily, has several entertaining and fun spots that are just right for a toddler birthday party.
Children's Gyms
Torrance's children-friendly gyms such as The Little Gym, My Gym or Gymboree have birthday party packages that offer age-appropriate activities, games, equipment and programs designed especially for toddlers. In addition, because these facilities provide a birthday host to guide the children and parents through the scheduled activities and will also clean up, the birthday child's parents have more time to interact with the children and other guests during the celebration.
Mulligan Family Fun Center
If older children as well as toddlers will be attending the birthday party, the Mulligan Family Fun Center is a good choice. Mulligan features a number of kid-friendly attractions, and its birthday party package includes -- among other things -- a host for your party, invitations, pizza, drinks and two hours of unlimited use of the facility's toddler-friendly Jungle Jym. The party package also gives guests two hours of unlimited use of Mulligan's miniature golf course, its small go-karts, paddle boats and rock wall, which will keep older children at the party entertained.
Chuck E. Cheese
Torrance has two Chuck E. Cheese locations from which to choose for your toddler birthday party. Like Mulligan Family Fun Center, Chuck E. Cheese's games and activities appeal to many ages and skill levels, making it another good choice for a party where children of varying ages will be in attendance. The Torrance locations offer birthday packages that include tokens for the games and rides for the birthday child, a host for the party, pizza and soda.
Kid Concepts U.S.A.
Kid Concepts U.S.A. bills itself as an edu-tainment center for the 10-and-younger set. This large facility has play structures, including one specifically created for toddlers, and features a host of other activities designed to bring out your child's creative side. Kid Concepts U.S.A.'s birthday party package includes a two-hour party, a host, a party entertainer, pizza, soda and goodie bags, among other things. If you prefer, Kid Concepts U.S.A. can also bring the party to your house.
Backyard Party
Take advantage of the mild weather that Torrance is blessed with much of the year and throw your toddler a backyard party. Children this age don't need much to make their birthdays memorable, but if you prefer, you can hire a moon bounce for the children to play in or an entertainer, such as your child's favorite costumed character or a magician. Be aware, however, that many toddlers can be frightened by a costumed character or a clown.
Photo Credits
Jupiterimages/Photos.com/Getty Images