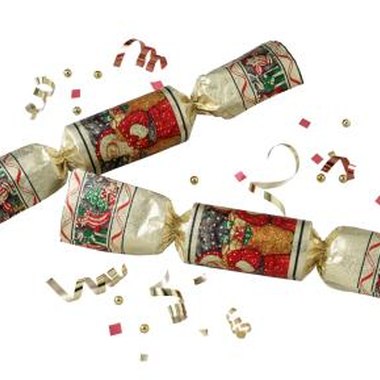 Even simple, inexpensive party favors can become special keepsakes when printed with a relevant, inspiring phrase. You don't have to reuse the same old phrases that other people have used, either: with some careful thought and a bit of research, you'll figure out the perfect phrase for this particular event with these particular guests, and give them something -- besides the fantastic party, of course -- for them to remember the event by.
Love Quote
For a marriage or anniversary party, personalizing party favors with a love quote is the perfect touch - if you don't mind a few wet eyes in the house. Try to pick a love quote that either many of the guests will be able to relate to, or that applies directly to the bride and groom's relationship. For example the Dr. Seuss quote, "When you are in love you can't fall asleep because reality is finally better than your dreams," is a charming phrase that will appeal to most of your guests. "Absence sharpens love, presence strengthens it," by Thomas Fuller, is specific to a couple who is finally getting married after a drawn-out long-distance relationship.
Spiritual Saying
Choose a spiritual saying to print on party favors for almost any event within a certain faith or spiritual practice. For a the birthday of a Buddhist, you might choose Milarepa's "My religion is to live and die without regret." For the Jewish wedding, "Many waters cannot quench love, neither can floods drown it," is perfect. There is no shortage of general inspirational sayings, either, like this one by Deepak Chopra: "Where nature goes to create stars, galaxies, quarks and leptons, you and I also go to create ourselves."
Short Descrpition
Use a phrase to give a short description about the person or people the party is for. This will remind guests of just why they came to the party in the first place, and will give them something very personal to remember the event by. For example, you might write "Baby Sarah, the biggest kick of all" for a naming or baptism for a baby who kicked a lot in the womb. "Sandy and Gerry, always a light in the dark," for a marrying couple known for their generosity or emotional support of others.
Writers' Words
Let a known writers' words fill the space on a party favor with vivid imagery or satisfying wit. Choose the writer whose words you use in accordance with the types of guests attending the party, and try to match the quote with the setting or theme of the party, as well. For example, naturalists at a party in the woods might appreciate a Ralph Waldo Emerson quote, while New York City art students at a graduation dinner might appreciate an Allen Ginsberg quote.
Photo Credits
Brand X Pictures/Brand X Pictures/Getty Images