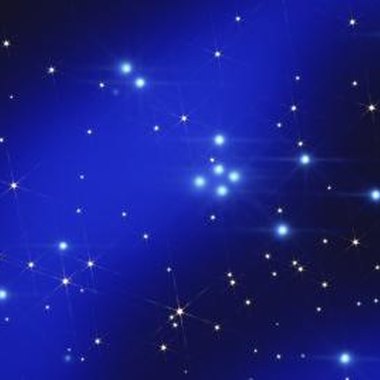 Many parents decorate their children's rooms with rubbery, glow-in-the-dark stars and moons. These items are an inexpensive, longer-lasting alternative to energy-consuming nightlights. However, those stars and moons can serve as more than just cute decor. You can use them to create a delightful theme for a child's party.
Invitations
Make glow-in-the-dark party invitations for your guests. Purchase some black poster boards, scissors, assorted glow-in-the-dark markers, a large package of glow-in-the-dark stars and moons and some double-sided tape. Cut and fold the black poster board into cards (like birthday cards) of your desired size and shape, one for each invited guest. Using the markers, write the date, time, location and other information for the party on each card. Then, tape a few stars and moons on each invitation. This would also be a fun activity in which to involve your kids.
Decorations
You can also incorporate glow-in-the-dark stars and moons into the decorations for the party. Attach some stars to inflated balloons and then tape the balloons to your walls. Hang some stars from the ceiling using string or yarn and clear tape. Spread some stars and moons across the gift table. Glue some to a Styrofoam ball or cone and create a centerpiece for the main table in the room. Also, tape some stars and moons to the streamer that you use to line the walls.
Party Games
There are several ways you can use glow-in-the-dark stars and moons in party games. Hide several stars and moons in various places around the party areas (on the backs of chairs, behind picture frames, under bowls or boxes) and give prizes for the most items found. Have the children attempt to toss the stars and moons into a large bucket and reward the child who gets the most in. Arrange the stars and moons into the shape of an animal (like a dog or a bird) on a large blackboard or a wood panel painted black. Have the children make their own constellation by connecting the stars and moon to reveal the shape of the animal.
Other Party Ideas
Glue some stars and moons to party hats and other party favors to be passed out to the children. Purchase several packages of inexpensive white (or black) T-shirts from a discount store and allow the children to decorate the shirts with glowing paint, markers and the glow-in-the-dark stars and moons.
References
"Martha Stewart's Encyclopedia of Crafts: An A-to-Z Guide with Detailed Instructions and Endless Inspiration"; Martha Stewart Living Magazine; 2009
"Party Ideas for Children"; Jenny Dodd; 2007
Photo Credits
Jupiterimages/Photos.com/Getty Images