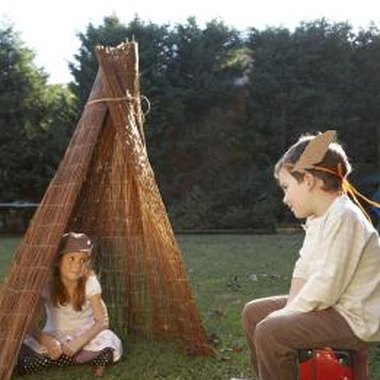 A Native American-themed birthday party incorporate aspects of Indian folklore and heritage into a child's celebration. This party is a great way to familiarize children with part of their country's history while they have fun. The decorations, crafts and activities can be made with items you probably already have around the house.
Invitations
A simple invitation for a Native American party can be made by cutting a tepee shape out of construction paper. If you'd like to be more elaborate, use a piece of faux-leather to simulate the animal hides that Plains Indians used instead of paper. Include the date, time and location of the party on the invitation. Let the guests know if you'd like them to arrive in costume. For a special touch, assign each guest an Indian name. That helps set the mood before the party starts.
Decorations
If you have the room, use a painter's drop cloth arranged over wood to make a tepee large enough to fit several children. Spread a blue tarp on the floor for a river, and assemble a canoe out of several cardboard boxes taped together. Set a pile of wood in a corner and string strips of red, yellow, and orange crepe paper down over the logs. Place a fan off to the side to make the "flames" move.
Food
Most Native Americans were hunter-gatherers, eating meat, native plants and berries. Some tribes grew crops like wheat and corn. While you could certainly serve bison and elk to your guests, children are usually more comfortable with familiar foods. Hamburgers can be renamed "bison burgers," for example, and fruit leather strips can replace dried meat jerky. Candy corn, popcorn, corn chips or cornbread would all fulfill the role corn played in the Native American diet. Cover ice cream cones with chocolate and decorate them with string licorice to make whimsical chocolate tepees. Cut sugar cookies in the shape of animals such as buffalo, horses, and eagles. Use candy and plastic figurines to create an Indian village on top of a sheet cake.
Crafts and Activities
If children are not coming in costume, they can make costumes at the party. When they arrive, give each guest a paper-bag vest to decorate. Older children can cut out their own arm holes and make fringe; if your guests are too young for scissors, do the cutting before they arrive. Friendship bracelets can be made by braiding embroidery floss or white string. Young children can just tie a few knots; preteens can braid intricate patterns. Modify basic party games to fit the Native American theme. For example, Pin the Tail on the Donkey can become Pin the Tail on the Buffalo. Music is an important part of Native American celebrations. Paint coffee cans and cover them with fabric to make drums. Paint paper-towel rolls and fill them with rice and beans to become rainsticks.
Photo Credits
David Woolley/Digital Vision/Getty Images