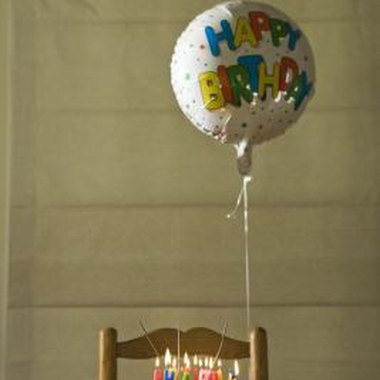 Your mother has 85 years under her belt, and that's truly something to celebrate. Whether she prefers a low-key get-together or a big, rowdy bash, her 85th birthday should bring together all the people she loves most to celebrate with her. Don't let a big guest list or lots of planning discourage you -- on her 85th birthday, your mother's happiness will be the only thing that matters.
"Here's to You" Birthday Party
After eight and a half decades, your mother has surely influenced many lives through her work, extracurricular activities and personal life. Gather small pictures of her closest friends and family and arrange them around a large picture of your mother. Have the entire image, surrounded by the smaller ones, put on a large sheet cake. Invite former classmates, students, colleagues, babysitting charges and childhood friends. Tell every guest to prepare a few words -- no more than 30 seconds -- that show how your mother has affected her. Complete the speech-making with the pouring of champagne to each guest and a personal toast from each of her children.
"Looking Back" Birthday Party
Your mother has come a long way and has many years of memories to look back on. Tell her to pick her favorite decade and have an era-appropriate outfit made for her to wear to the party. Email pictures of your mother from when she was younger to the guest list. Tell each guest to choose one of her outfits and re-create it, then wear it to the party. Your mother will have a blast identifying each of the guest's outfits from different parts of her life, and it will allow her to reminisce and tell stories about her life. Ask your mother to choose three of her most cherished memories -- the birth of her children, her wedding or maybe her 50th anniversary. Find pictures of these events (if no pictures exist, ask her to describe them in detail or research them online) and recruit a family member with a large house to volunteer three rooms to be temporarily redecorated to look like the memories your mother described. For example, if she went out to dinner for her 50th anniversary, find out which restaurant and re-reate the scene with similar furnishings and decorations. Your mother will be surprised and touched by your efforts and will love the chance to re-experience wonderful memories. Guests will enjoy the sneak peek into your mother's younger days and listening to her stories.
Hobby Birthday Party
If your mother loved to (or would have loved to) travel, turn her 85th birthday party into a trip around the world. Have each guest sign up to bring a different international dish; for example, Spanish paella, Ukrainian borscht or Indian curry. Decorate your venue to resemble a well-known national celebration, such as Brazil's Carnaval. Tell guests to dress in traditional clothing from any country they wish. For a former golfing enthusiast, you have two options. Hold the party at the country club's social room and chauffeur her around the course in a golf cart, stopping to let her putt at each hole. Move the party outdoors for a cookout on the driving range. You could also hold the party at your home. Cover the floor with a putting green and set up flags throughout the house. Have guests dress like golfers -- plaid shorts, polo shirts, golf shoes and berets.
Outdoor Birthday Party
If the weather's nice and you have a big guest list, heading outside may be a good idea for your mother's 85th birthday party. Have a cookout in the park. Young guests can play games and older guests can enjoy refreshments and reminisce together. If you live on the coast, get everyone together for a beach party. Set up large beach umbrellas and plenty of chairs. Feast on lemonade, deli sandwiches and birthday cake. If your mother is still in good physical condition, have a camping birthday party. Invite just close family members and enjoy an evening under the stars around a bonfire. Have your mother tell stories while you eat birthday s'mores and she unwraps her gifts.
Photo Credits
Jupiterimages/BananaStock/Getty Images