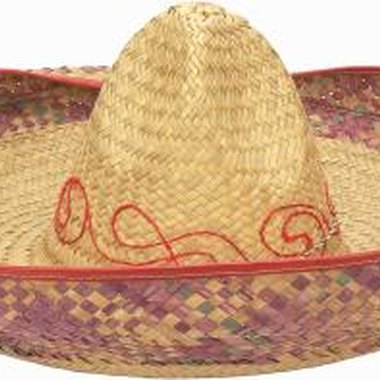 With vibrant colors, spicy food and lively music, the Mexican fiesta is a party theme that promises to delight the senses of your guests. Invite guests to come dressed for a fiesta, as their attire will complement the rest of your Mexican-inspired décor. Host the party outdoors if the weather allows, as the warmth reflects Mexico's tropical climate. An indoor fiesta can be just as inviting in the winter, when guests can use a warming reprieve from the outdoor chill.
Fiesta Invitations
Create fiesta-themed party invitations with colored card stock and your home computer. Decorate your invitations with Mexican-themed images such as a sombrero, a batch of chili peppers, a cactus or piñata. To make invitations by hand, purchase stickers with which to transform blank note cards into fiesta-themed invitations. Find the stickers in a party supply or craft store, where you may also find the easy option of ready-made fiesta invitations.
Fiesta Decorations
To decorate for a Mexican fiesta, choose a tropical color scheme or the colors of the Mexican flag, which are red, white and green. Purchase balloons, streamers and table coverings in your color scheme. Set the tables with fiesta-themed plates, cups and napkins purchased from a party supply store. Hang sombreros on the backs of chairs, and place some on the tables as centerpieces. Fill the rims of the sombrero centerpieces with nachos, peppers or dried beans. Hang chili pepper string lights and tropical-colored paper lanterns to provide accent lighting. For additional props, bring in a few inflatable palm trees and a piñata.
Fiesta Activities
Hire an instructor to give guests Latin dance lessons or just play Latin dance music and watch them improvise. Create an adult version of the Mexican piñata. Make a traditional kids' piñata out of papier-mache, but instead of candy, fill it with items such as lottery scratch-off tickets, tea-light candles, plastic shot glasses, flavored tea bags and small packages of espresso beans.
Fiesta Menu
Order a catered buffet of Mexican-inspired foods or create your own from traditional recipes. Menu ideas include empanadas, enchiladas, paella, rice and beans and Arroz con Pollo. Create a selection of your favorites along with a variety of nachos, salsa and guacamole. Another option is a "make your own taco" station, which can either serve as an addition to the entrees or stand alone as the main fare. At the bar, serve an assortment of Mexican beer, sangria, margaritas and tequila-based cocktails. Offer non-alcoholic varieties of the mixed drinks for guests who want to enjoy a cocktail without the alcohol.
Fiesta Party Favors
Send guests home with a keepsake reminder of the Mexican fiesta party. Suggestions include Margarita glasses, sombreros, Mexican cookbooks or Latin music CDs.
Photo Credits
Zedcor Wholly Owned/PhotoObjects.net/Getty Images