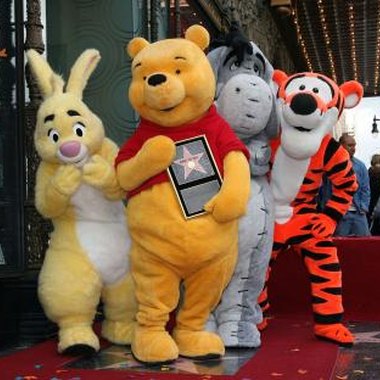 Winnie-the-Pooh, the friendly bear who wins the hearts of young and old alike, is a suitable theme character for a variety of celebrations, including birthdays and showers. Although commercial invitations featuring Winnie are available, making theme-related invitations yourself allows you to customize them to your preference and makes your guests feel special.
what is a fallback
Printed Cards
If you are not artistically inclined or wish to save time, simply download images of Winnie-the-Pooh and his friends from a reliable online source and paste them to precut cardstock or attach them to card design software installed on your computer and print. Depending on personal preference, you can include individual images of Pooh, Rabbit, Piglet, Kanga and Eeyore, or paste a group photo of the characters in the center. Embellish the paper cards with stickers, rubber stamps and other accents for added appeal before writing the information on the back.
100 Acre Wood Map
The 100 Acre Wood is a major landmark in the story. It's where the characters live and most of their adventures occur. Incorporating the Wood into your invites gives the guests a hint of what the party holds. Sketch a map of the Wood on paper and add minute details to it, including the location of the party. Color and make photocopies before pasting each to precut card stock. For added effect, include on the map the home location of the guest to whom you are sending the particular invite. Upon opening the envelopes, guests will enjoy seeing personalized versions of the map.
3-D Invitations
Send out stuffed bear toys or small honey jars as creative invitations that also serve as keepsakes. A tiny Winnie-the-Pooh stuffed toy tucked in a box holding a cutout with party details informs the guests you are going all-out for the party and makes them feel special. If Winnie-the-Pooh stuffed bears are beyond your budget, purchase inexpensive, tiny yellow stuffed bears wearing red shirts. A stuffed bear holding a personalized note that reads, "Join Us for an Adventure of a Lifetime in 100 Acre Wood..." captures attention. Alternatively, send out an empty or filled honey jar or pot with a tag around the lid for a creative card. Print and scroll the invitation in the empty jar, or attach a gift tag with party information around a jar filled with honey. Obviously, delivering these invites personally is less of a logistical problem or expense than mailing them.
Other Ideas
Send out a photo of your child holding her favorite Winnie-the-Pooh toy as a variation on a traditional invite. Print the picture and paste it to the front of a precut piece of cardstock for stability. Write the relevant party information on the back before inserting in an envelope and mailing. Alternatively, send out a coloring page invitation along with a small box of colored pencils or crayons or a sheet of theme-related stickers. Tear out a page from a Winnie-the-Pooh coloring book and fold it in half to serve as an invitation. Write the party information in a bold color along its edges or over the back. Insert the items in an envelope to serve as entertaining activities for guests prior to the party.
Photo Credits
Michael Buckner/Getty Images Entertainment/Getty Images