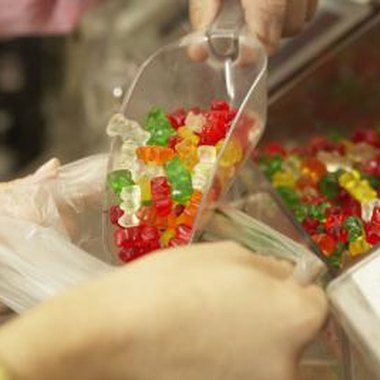 Lolly bags, or goody bags, are given to guests as favors at the end of child's birthday party. These bags often contain candy and small prizes related to the party's theme. Parents can spend a small fortunate creating lolly party bags, but handmade lolly bags with inexpensive treats will be enjoyed just as much as the expensive bags.
Containers
Lolly bags traditionally come in decorated plastic or cellophane bags purchased at a local party store to represent the party's theme. Parents can enlist the help of their children to create their own lolly bags by attaching stickers to the outside of plastic sandwich bags or paper lunch bags. Using permanent markers, you can add guests' names and customized artwork. Patterned fabric can be filled with candy and treats and tied with a ribbon for another creative lolly bag.
Candy
Because peanut allergies are common in children, parents should avoid including candy with nuts or peanut butter in lolly bags. Choose simple treats such as lollipops, gumballs and fruity treats. If party guests include younger children, do not include any candy that children could choke on. Party supply companies, such as Oriental Trading, offer candy items related to a variety of party themes. Consider circus peanuts -- a banana-flavored peanut-shaped candy -- for a carnival theme, or candy shaped like fish for a pool party.
Other Treats
If you would prefer not to load kids down with candy, consider other food treats such as fish-shaped crackers for a pool party or animal crackers for a zoo or animal theme. Bake cookies and cupcakes and fill goody bags with these homemade treats. Avoid food altogether by filling bags with small, inexpensive toys related to the party's theme. Local dollar stores and large discount stores offer inexpensive fillers such as toy cars, coloring books, stickers and bottles of bubbles.
Theme Bags
Lolly bags should be personalized to fit the party's theme. For a princess or spa party fill the bags with pink candy and items such as nail polish, lotions and hair accessories. Ideas for a sports-themed goody bag include small balls, whistles, a bottle of sports drink, a healthy snack such as a protein bar or a pack of baseball or football cards. Lolly bags for parties based on a popular cartoon character to television show should contain small toys related to that character or show such as coloring books, stickers or plastic figurines from a local dollar store.
Photo Credits
Jack Hollingsworth/Photodisc/Getty Images