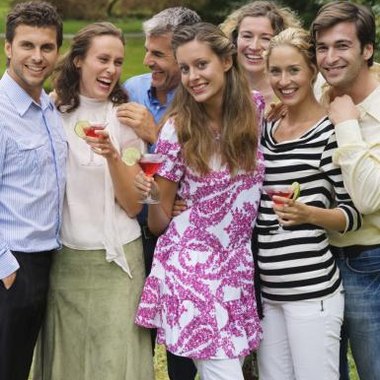 An outside venue for a Jack and Jill party can add an air of fun and elegance. Because the guests will be both male and female, avoid a traditional shower and choose a fun theme and activities that will appeal to both men and women. Hold the party around lunchtime for a less formal feel, or for dinner and into the evening for a special event.
The Venue
If the couple enjoys the outdoors, hold the Jack and Jill party at a spot that reflects their interests, such as a local park or beach. Or, keep it simple by choosing someone's backyard. Set up comfortable chairs and a couple of buffet tables so guests can relax and mingle instead of sitting at tables for a formal dinner. Have a covered area or umbrellas, as well as an indoor option, in case of rain.
The Theme
A fun theme, but not too cutesy, is best for a Jack and Jill party. Again, go with the interests of the couple. If they are foodies, ask guests to bring gifts such as gourmet ingredients and quality cookware. Have guests get together to buy a barbecue and the accessories for a couple that likes to grill. If they love the outdoors, they would appreciate sportswear and equipment. Or, if they appreciate good wine and beer, stock their bar with those as well as the perfect glassware to accompany them.
The Food
Match the food to the theme, if possible, serving fine wine and beer if that's what the couple likes, and grill the food if they enjoy barbecues. Instead of something basic like burgers, offer guests a mixed grill, such as chicken or beef kabobs, marinated shrimp and a variety of grilled vegetables. If you want to serve burgers, make them sliders and accompany them with toppings like caramelized onions, sun-dried tomatoes, goat's or feta cheese and Canadian bacon. Instead of a traditional cake, opt for a tower of cupcakes for a fun, less formal dessert.
The Activities
Once the gifts are opened, or even while they're being opened, have some activities to keep the guests occupied. Create a crossword puzzle or trivia game with questions about the bride and groom. Whoever gets the most correct answers or completes it the fastest wins a prize. Carry around a video camera and record the guests give wedding and marital advice to the bride and groom. This recording will be something they will treasure.
Photo Credits
Dynamic Graphics/Creatas/Getty Images