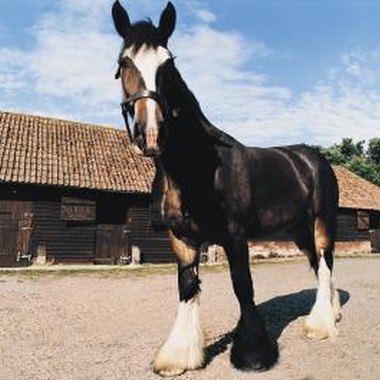 Pile some hay onto a rack or wagon, hitch up some big horses to pull it -- such as Clydesdales, Shires or Belgians -- add some friends and you've got a moving party. Hayrides date back to the pioneer days when it was an inexpensive way to have a party. The hayride would go from one farm to the next, picking up people along the way and everyone would pitch in with food and beverages. In recent times, hayrides have resurfaced and become a popular option for kids' birthdays and adult parties. Hosting a hayride means that you are in charge of organizing the details.
Organization
Investigate the logistics. If you don't have a horse and wagon, check to see if someone in the area offers hayrides and find out the price. Another option is so put some bales of straw in a wagon and pull it with a tractor or truck. If you are going to be doing it in town, find out if you need a special permit to have people riding in an open wagon without seat-belts.
Invitation
Send out an invitation to the hayride. Use the 5-W formula and make sure everyone knows who, what, when, where and why. Also tell people to bring warm clothes, as it gets chilly at night.
Food and Beverages
Arrange for food and beverages. It could be that you are making the food for the hayride party, everyone could be chipping in or you might stop at a restaurant and eat there. Include the information in your invitation, so that everyone is aware of the game plan.
Greeting Guests
Get to the site early so you are there to greet your guests. Once everyone has arrived, climb on the wagon. Bring along a step-stool in case some of your guests have trouble navigating getting on board.
Itinerary
Announce where the hayride will be going and things the guests will be seeing. People like to have an idea of the time-frame for these sorts of outings.
Commentary
Offer a running commentary, if it is appropriate. If your guests are from out of town, for instance, point out some of the local landmarks or historical sites as you go by them on the hayride party.
Entertainment
Bring a guitar and have a sing-along. Hayrides are linked to the pioneer days, so sing along with old songs that everyone knows such as "I've been working on the railroad," "Buttons and bows," or "Hang down your head Tom Dooley."
Eggnog
Add rum to the eggnog or vodka to the punch. It is an adult party, so the guests may want to imbibe, particularly if it is a chilly spring or fall evening.
Farewells
Wish your guests well when the hayride party is finished. Also remind them not to drive and arrange transportation for them if they had too much eggnog.
Resources
Photo Credits
Digital Vision./Digital Vision/Getty Images