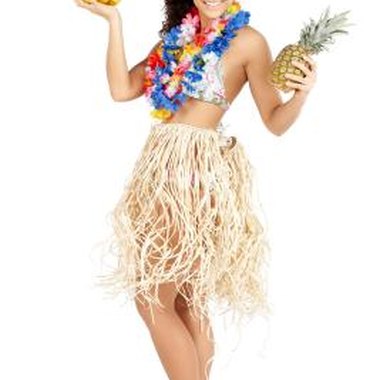 Throw on a lei, slip into a hula skirt and celebrate the warm summer weather with a Hawaiian luau. Along with Hawaiian inspired costumes, tropical decorations and ukelele music to set the scene, a luau isn't complete without some Hawaiian cuisine and other summer time snacks.
Appetizers
Refreshing appetizers and snacks will help guests cool down during a hot summertime luau. Fruit kabobs, with pieces of strawberries, pineapple and melons skewered onto wooden skewers, make a colorful and tasty appetizer. Serve them with some whipped cream or vanilla yogurt dip. Give common appetizers like chips and salsa a Hawaiian flair by making some pineapple or mango salsa. Jazz up cocktail shrimp by serving up fried coconut shrimp for another Hawaiian appetizer.
Main Course
Rather than the burgers and hot dogs found at many summertime events, try serving up dishes with Hawaiian flair. Tiki tiki chicken marinated in pineapple juice, white wine vinegar and garlic has a distinctively tropical taste that is perfect for a luau. Impress the guests with an authentic Hawaiian laulau. Wrap chicken thighs, pork chops and salted fish in luau leaves, then steam for several hours to create a traditional Hawaiian dish. Grilled seafood seasoned with citrus is well suited for a luau.
Desserts
Satisfy the guests' sweet teeth by featuring a spread of Hawaiian themed desserts. Mix canned pineapple, mandarin oranges and maraschino cherries into cool whip, shredded coconut and miniature marshmallows to create a luscious Hawaiian ambrosia. Give banana bread a Hawaiian crunch by adding crushed pineapple and macadamia nuts. The silky texture of coconut cream pie or coconut pudding is especially satisfying during the heat of summer. Finally, finish off that pineapple by making a tasty pineapple upside down cake.
Beverages
Help the guests cool off with refreshing Hawaiian themed beverages. Luau punch, made of pineapple juice, lime juice, lemon lime soda, seltzer, vodka and brandy, is a delicious adult beverage. For the kids, serve up bubbly fruit punch made by mixing frozen fruit punch concentrate, pineapple juice, coconut milk and ginger ale. Adults can also pick from a variety of tropical cocktails, such as mai tais, pina coladas, strawberry daquiris, blue Hawaiis or chi-chis.
Photo Credits
Photos.com/PhotoObjects.net/Getty Images