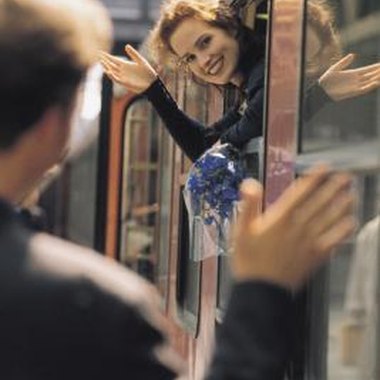 Although it's never easy to say goodbye, hosting a goodbye party is a thoughtful way to see your friend off. Let the guest of honor's friends and family members know that you'll be hosting a goodbye party by sending out relevant invitations. Creating a memorable invite requires creativity and the inclusion of enjoyable memories shared with the guest of honor.
Location
Find out where the guest of honor is going and include the location in the invitation in a creative fashion. For example, if he is moving to Hawaii for the summer, opt for luau-themed invites complete with leis, Hawaiian print, and a picture of a tropical beach. If he's heading to Las Vegas, an invitation that resembles a slot machine or casino is likely to go over well. For an individual moving away for college, create an invitation in his future school colors. Military men and women may enjoy patriotic invites.
Memorable Invitations
Don't focus all of your energy on making the party memorable; make the invitations memorable as well. Include a small card inside of the invitation that says, "[Guest of Honor] will be missed by [Guest] for 10 reasons..." Request that each invitee fill out the card, including 10 reasons why she'll miss the guest of honor. Encourage guests to include positive memories and avoid negative ones. During the party, allow each guest to read from her card. Another memorable invite idea is to create a photo collage with candid photographs of the guest of honor enjoying time spent with family and friends. Print the collage on the front of the invites to double as a keepsake.
Surprise "Going Away" Party Invites
Surprise party invites are tricky. It's important to let guests know that the party is to be kept on the down low so that word does not travel back to the guest of honor. An invitation with an index finger to the lips -- symbolizing "Shhh..." -- is a practical idea. It lets the guests know that the party is a secret. It's also wise to include how early guests should arrive at the party to avoid running into the guest of honor on their way to the venue. Hand deliver the invites discreetly to avoid blowing your cover.
Wording
Wording on a farewell invite is perhaps the most important item, next to design. If the guest of honor is aware of the event, the invite should be somewhat of a dedication to her. Grab her attention and allow her to reminisce through creative wordplay. Start with a thought-provoking question such as, "Remember When?" Include inside jokes and heartfelt memories to conclude the invite. If you're planning a surprise party, remind guests of shared memories and funny moments and conclude with "Show that you appreciate her friendship by attending her going-away party."
Photo Credits
Comstock/Comstock/Getty Images