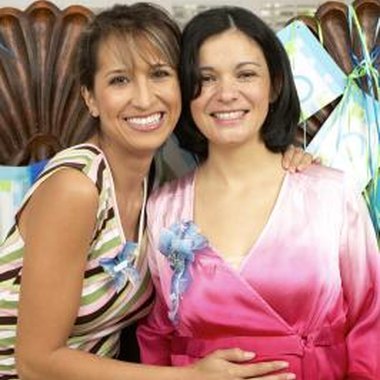 Baby showers help supply parents-to-be with necessary supplies for their new child and give their friends and family the opportunity to share their support and excitement over the new arrival. Planning a baby shower for the expectant parents requires building a guest list, choosing a shower theme and selecting enjoyable shower activities for the guests. Remember to work with the mom-to-be on the party plans, unless you are planning a surprise shower, so her ideas can be included in the festivities.
Basic Planning Ideas
Baby showers are traditionally hosted by a close friend or co-worker of the mother-to-be, although more recently mothers, sisters and other family members have begun to host the shower. The shower should be held a month or two before the baby's due date, giving the parents-to-be time to register in advance of the party and still leaving enough time for the gifts to be put away and for the parents to purchase any items they did not receive before the baby's arrival. In some cases, welcoming showers are held after the baby's arrival.
Guest List
Guest lists for baby showers vary based on the parents' wishes and who is hosting the shower. For example, a shower hosted by a co-worker may have a guest list consisting of mom's friends from work, while a shower hosted by a friend or family member is more likely to have a guest list consisting of everyone of importance to the parents-to-be. Work with the expectant mom, or couple if planning a co-ed shower, to ensure that everyone she wants to be there is invited. If hosting a shower for a second or third time mom, consider keeping the guest list small, limited to only family members and close friends.
Shower Theme
Although not required, most baby showers have a theme. Select a theme that suits the parents' personality, focuses on the child's nursery decorations or on necessary supplies. A shower for eco-conscious parents may be a green baby shower, with organic or locally grown food, re-gifted items and recycled paper decorations. A Feeding-the-Freezer shower encourages shower guest to bring along a meal that can be frozen and reheated for the parents to eat after the baby's arrival. Other shower ideas include a a library party, where guests bring their favorite children's book, a gifts for mom party, where all of the presents focus on pampering the mother-to-be and more traditional themes such as an afternoon tea or brunch celebration.
Shower Activities
Games and activities help keep shower participants engaged in the shower's events. During the present opening, play a round of bingo, with each guest designing her own card, listing specific items she thinks the mother-to-be will unwrap. See who knows the mom-to-be the best by having guest complete a questionnaire about her childhood or having them predict her belly size using a piece of string. Give each guest a diaper pin and tell them they can not say the word baby. If a guest is caught saying baby, another guest gets to take their pin, with the guest with the most pins at the end of the event being the winner.
Photo Credits
Creatas/Creatas/Getty Images