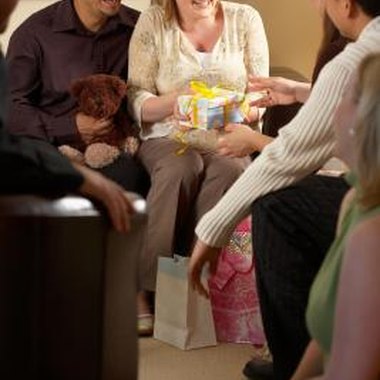 A baby shower doesn't have to be dedicated to female festivities only. In fact, Jack and Jill baby showers, which male and female friends attend, are a growing trend. When the father-to-be is present at the baby shower, give him a useful, comical or sentimental gift that reflects his upcoming role.
Baby Apparel
Present a father-to-be with darling baby apparel for his new bundle of joy to sport once he is welcomed into the world. Select apparel that includes a message relating to the baby's father. Give him a onesie, T-shirt, pair of pants, shorts, skirt, pajamas, a hat, socks, booties or bib that reads, "I love my Daddy," "Daddy loves me," "Born to love Daddy" or "Peace, love and Daddy." Pick an apparel item that suits the baby's gender if it is known. If the baby's gender is not known, give the father baby apparel in a neutral color, such as yellow.
Gift Basket
Give a father-to-be a gift basket full of goodies that can be useful for his hospital visit when the baby is delivered or for at home when the baby is getting settled in. Gift basket items include his favorite candy or snacks, batteries or a memory card for his camera, a children's book, a stuffed animal and a coupon for a free night of babysitting. Include a phone book filled with friend's and relative's phone numbers so that he can call everyone to announce the birth of his child.
Humorous
Surprise a father-to-be with a humorous gift. Give him a "World's Best Dad" coffee mug along with a 5-lb. bag of coffee to help the new dad function during the days that follow sleepless nights. A "daddy diaper duty" tool box, apron or tool belt has a specific holder that houses everything a fearful new dad may need while changing a diaper: rubber gloves, goggles, a clothespin for his nose, a poop poncho, a bio-hazard waste bag, wipes, diaper-rash cream and baby powder.
Daddy Items
Give a baby shower gift for the father-to-be that he can wear or use to proudly display his new role as a father, such as a baseball hat, T-shirt, sweatshirt, sweatpants, jersey or tie. The apparel can read, "New Dad," "All-Star Dad" or "World's Best Dad." Other display items to give include a bumper sticker, water bottle, coffee thermos or pin. These gifts can display a similar message like "Proud Dad," "It's a boy," or "It's a girl."
Photo Credits
Jupiterimages/Photos.com/Getty Images