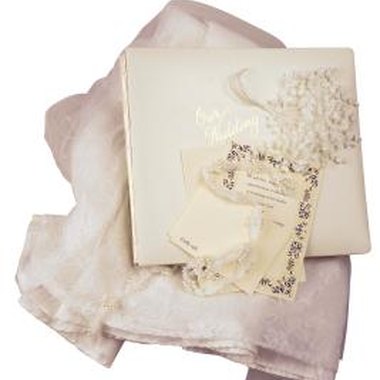 Formal wording for bridal shower invitations can range from the simple and straightforward to elegant poems written specifically for the people getting married. Regardless of the sentiment expressed, include specific details to let people know when to show up and what to expect.
Simple and Traditional
When in doubt, use a simple, straightforward approach when writing a shower invitation. For example, "Please join us for a bridal shower honoring Ann Pfeiffer," can be effective. Sometimes less is more. Such an invitation might be preferred by a bride who doesn't like a lot of fuss or bells and whistles. A simple wording can also be an interesting contrast to elegant adornment and decorations on the invitation.
Famous Poems and Quotes
There are many well known and often-repeated poems and quotes about love. One commonly used example is 1st Corinthians 13: 4-8, which famously begins, "Love is patient and is kind." You can also take samples from classic love poems, such as "Marriage Morning" by Alfred, Lord Tennyson. You can also use quotes about love from famous people, such as "There is only one happiness in life -- to love and to be loved," by writer George Sand.
Individualized Poem
You could also choose to write an elegant poem about the bride or the couple getting married. Although this can be the most time-consuming option--and sometimes the most frustrating if you're experiencing writer's block--it can also be the most unique, creating a personalized invitation. The poem can rhyme or be written in free verse. The poem can also vary in length, being as short as four lines.
Obligatory Information
When writing a shower invitation always include certain details, including the bride's full name, the date, time and location of the shower, the person to whom RSVPs must be sent, that person's contact information and the date by which RSVPs must be made. Consider also including where the bride is registered, as well as the theme of the party, if there is one.
Photo Credits
Comstock/Comstock/Getty Images