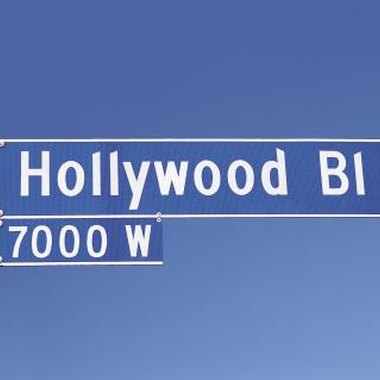 Everyone likes to leave a party with a few favors. When hosting a party with a Hollywood theme, it's easy to put together a package of goodies or individual treats that are thematically appropriate and help everyone remember the fun that was had.
Personalized
Turn the invitations into memorable keepsakes. Send out invites that look like laminated movie tickets that can later be saved in an album. Write the date of the party as the "premiere" date and put the guest's name in the "starring" section. When guests arrive, give them VIP passes hanging on lanyards with their names on them. Another option is to put guests' names on clapboards or cut-out foam to look like stars. Paint the foam gold and write names on them so each person can have his own Walk of Fame symbol.
Miniature
Party and craft stores carry miniature items that can make for fun favor packages. Start with a popcorn bucket or a bag with VIP written on the outside with gold glitter. Fill either container with miniature director's megaphones, toy-sized cameras, clapboards and mini replicas of the Oscar statuette. Write the date of the party and the hosts' name on the base of the statue with black marker. Many party stores also carry hand-sized vinyl stickers made to look like stars on the Hollywood Walk of Fame.
Do It Yourself
Do It Yourself party favors can be economically friendly. Cut out pictures of favorite movie scenes or actors and glue them on poster board to create collages. For music savants, burn CDs with favorite movie scores or songs that are associated with famous cinematic scenes. Other options are to create lists of favorite movies to recommend to guests, divided by genre. Or purchase computer paper with borders decorated with film reels, cameras or stars and print out copies of the American Film Institutes list of the 100 greatest movies of all time. If money isn't an issue, hosts should put together a stack of favorite movies and let guests choose one to take home.
Accessories
Those who live the Hollywood life like to do so in style. Give guests sunglasses with large, round lenses or with lenses that are shaped like stars. Many costume stores carry gold-rimmed Elvis sunglasses. Hollywood is also the land of bling, so, for ladies, there is the option of oversized rhinestone rings and big fake pearl necklaces. Boas with gold and black feathers also fit the theme, as do miniature bottles of bubbles that are shaped like champagne bottles.
Photo Credits
Digital Vision./Photodisc/Getty Images