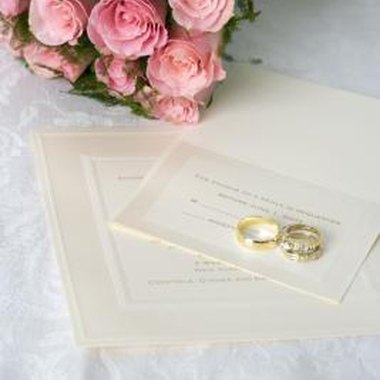 As the big day approaches, you may be looking for ideas for your engagement party and wondering about sending out original and creative invitations. Use invitations that reflect a set theme and idea for your party and will enthrall your invitees. Be creative, and design an invitation that celebrates the joy and fun of your love.
To-Do List
Making your invitation fun and exciting is easy to do when you parody the everyday with your invitation. Making a to-do list is ideal for a cute way of getting your recipients' attention. You could make it a timeline for you and your fiance, such as "1. Meet man of dreams", "2. Fall in love", "3. Get engaged." "4. Invite friends to party." You can personalize the invitation by making it specific to you and your sweetheart by specifying when you met, how he proposed or any other details. Your guests will be delighted by such a personal statement and the novel approach.
Retro
Go way back, and make yourself a retro-themed invitation that utilizes old fonts, stylings and phrases from whatever period of time you're most enamored by. You can use cultural euphemisms such as "We're getting married -- dig it?" or parody a famous advertising campaign from days gone by. This works especially well if your wedding is retro-themed. Tying a themed engagement party in with the theme of the wedding can be fun for you and your guests. Browse old magazines found at garage sales or for sale at a local library for ideas.
Travel Ad
Are you planning a destination wedding abroad but having a local engagement party or reception? Then an ideal way to express your plans and celebrate the fun involved is to use a travel ad. Go retro, and find old posters to mimic in your travel advert for your upcoming nuptials. Include a map to your destination on the back, and, if possible, design it like a post card for extra pizzazz. Browse the Internet for ideas in regard to old retro advertisements for the area you're traveling to, or look through old magazines for inspiration.
Holiday
If you are planning a wedding near a holiday, incorporate it into your engagement party invitations with themed invites. If you are planning a Christmas wedding, then make a mock Christmas card as a novel way of inviting your guests to your big event. You can do retro, buy blank cards and glue in a separately printed sheet of your event's details or send a photo greeting card featuring you and your fiance dressed up in holiday attire. Be as silly or as serious as you want to be when making your invitations, allowing your guests to join in on the fun.
Photo Credits
Creatas Images/Creatas/Getty Images