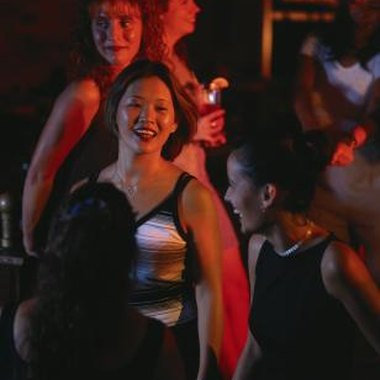 Use videos, tokens, Facebook RSVPs and fliers as invitations for your dance-club event. Dance clubs are generally fun, sexy and relaxing, so create marketing materials that reflect the atmosphere. You can reach a bigger audience by distributing more than one type of invitation. Post an event to Facebook while offering a contest for free drink tokens, for example. Have fun with your audience so they want to party at your club.
Facebook Invitations
With Facebook, you can create an event page and invite guests. Facebook users who plan to attend the event can RSVP, so you'll get a general idea about attendance numbers. Events pages are free to create, allow you to post information about your dance club and the event, encourage invitees to spread the word and invite friends, and they also allow people to ask questions. You can even post a digital copy of your flier if you decide to create one.
Fliers
Create colorful fliers with information about your dance club's upcoming event. Include the DJ lineup, age restriction, cost and etiquette rules such as dress codes. Make a flier design that reflects the personality of the club and the event itself. For example, if the event calls for "stylish attire" at a disco ball, include a classy silhouette of a disco dancer with a glowing ball overhead. If your dance club is rave-style with techno music, create a psychedelic swirl of colors with informal fonts.
Tokens
Distribute tokens good for entry at your event. Companies will print tokens to your exact specifications, including a choice of color, material, thickness and text. The tokens may help draw people to your event because of the perceived rarity. If a limited number of people can attend, guests may be more likely to show up. You can create further incentive to attend by offering a free drink or courtesy valet with the tokens, particularly if you intend to let non-token holders into the event.
Video Invitations
Make a YouTube video inviting people to your event, and consider offering discounts to guests who mention the video during entry. Show footage from past events, photos of the dance floor and bar, and announce drink specials and music lineup. Post the video to your Facebook event page for added exposure. Include contact information, such as the club's physical address, phone number and website URL. Having a YouTube video posted also allows people to learn about your club, even if they don't attend the particular event.
Photo Credits
Hemera Technologies/Photos.com/Getty Images