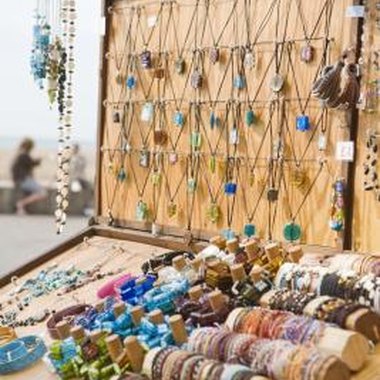 Once you commit to selling your handmade goods at a craft show, your booth becomes the most vital marketing tool in your arsenal. The booth forms potential customers' first impression of you and your products. Because of this, determining precisely how to display your wares turns into a business decision rather than a decorating decision.
Attention-Grabbers
As you envision your craft show booth, decide what will grab the attention of potential customers. What makes a great experience for individual customers varies as much as the customers themselves do. It is up to you to incorporate common eye-catching elements to attract as many visitors as possible. One effective technique is designing your booth around a theme that successfully highlights your wares. For example, a silk floral designer may showcase her creations by building a garden display. An antique crafter might build a booth to resemble an old farmhouse. Whatever theme you choose, make it one that welcomes your customers and encourages them to take a piece of your work home with them.
Lighting
Effective lighting can make or break an otherwise exquisite display. Illumination draws people toward your products and can induce an emotional response to merchandise when used suitably. Appropriate lighting enhances the finish on an article of furniture, the glisten of jewelry and vivacious fabric or paint colors, in addition to determining the mood within your craft booth. When illuminating jewelry, in particular, use brighter lights to heighten the sparkle factor, but not so bright that it makes the pieces difficult to look at. Soft lighting sets a relaxing tone for displaying bath and body products, so long as it allows enough light for customers to clearly read your signage.
Unique Displays
While booth displays are wonderful and useful accessories, you do not want them to be the only thing your customers notice. The products and displays should complement one another. Though you want your displays to fade into the background somewhat, they can still be used to pull in customers with their uniqueness. For example, incorporate some nontraditional items such as trellises, aged window shutters and tree branches to draw attention. Keep in mind that displays need to be sturdy enough to support the merchandise. Items displayed so elaborately that customers hesitate to handle your merchandise for fear of damaging something in your booth simply will not help you sell. Incorporating diverse display media also allows customers to view merchandise at varying heights and ultimately opens up the opportunity to show off more of your work within the booth.
Professionalism
Although craft show booth displays must be portable, you should give an air of permanence and professionalism to them. Unkempt, disorganized displays give the impression that a crafter simply does not care. Clutter can be overwhelming, but bare spots give customers the impression that you lack in stock. Keep displays full without overstocking them into a jumbled mess. Organization also helps provide a clean work area in which to interact with or demonstrate products for your customers.
Photo Credits
Jupiterimages/Goodshoot/Getty Images