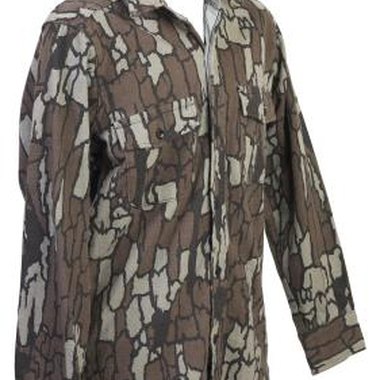 When a teenager has a special interest, it makes gift giving that much easier. But when a boy has two special interests, like the military and hunting, finding the right gift for Christmas should be a cinch. Let your creative juices flow as you think of ideas to show you know and appreciate the things that are important in his life.
Military Memorabilia
A wide array of military memorabilia is available for gifting from aircraft pins to replica naval ships. The items can be found at army surplus stores or through an online retailer. Purchase a wooden box and fill it with items from the teen's favorite branch of the military. Consider including a patch, lanyard, medal, photo, magnet, keychain and pen. Every Christmas, you can give the boy another item to add to his military treasure chest.
Camouflage
Whether simulating fighting on the front lines or perched in a tree waiting for game, every boy needs camouflage garb. Most outdoor supply shops and big box stores have a variety of camouflage clothing available in young adult sizes. Send the teenager into camouflage overload by hooking him up additional camo-designed goods such as bedding, bags, picture frames, curtains and hats. Some retailers even have camouflaged toilet seats available.
Flag
Nothing represents the military better than the American flag. Purchase a flag case and fold the American flag in military fashion. Place the flag in the case to be displayed on the boy's bedroom wall.
Camping Trip
Even though December is not usually thought of as ideal camping weather, plan a trip with the teenager to a warmer part of the country where you both can live off the land for several days. Bring the traditional camping gear as well as supplies to help snare food for dinner each night. For the more adventurous, consider a snow camping trip in colder states. Plan activities such as ice fishing, snowshoeing and snow cave building.
Visit
Plan a visit to a local military base. Call and request a behind-the-scenes tour of the facility. Explain that the teenager is fascinated with the military and would like to learn more about the operations at the base. Ask your contact at the base if he can send a letter to the boy requesting his presence at an upcoming event. Take the boy to meet with the soldiers and tour their living quarters. Have lunch in the mess hall. If a personalized visit is not in the cards, attend a military expo or air show with the teen.
Photo Credits
Hemera Technologies/PhotoObjects.net/Getty Images