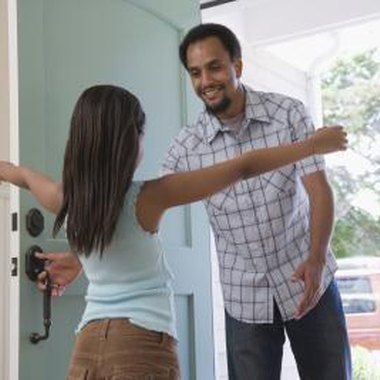 The idea seems to grow from year to year -- a night for dads and daughters to spend time together on a special date that celebrates everything that is special in the relationship between daddies and their little girls. Most often held near Valentine's Day, the events allow father and daughter to get dressed up for a special event. Everyone has a great time and special memories happen.
Valentine's Day
Valentine's Day honors love and most often involves romantic couples, but planning the event near Valentine's Day celebrates the love between fathers and daughters. Research affirms that a daughter's healthy relationship with her father predicts the success of her future love life and her emotional health. Encouraging fathers to take their daughters out to a father-daughter dance builds healthy attachments that pay dividends in the future. Daughters see that they matter to dad and experience a positive role model for how a future love interest should treat them. At the dance, fathers take time to tell daughters how beautiful they are and how deserving of healthy relationships. Dad wears a suit, buys her a corsage and she wears her best dress to create a lovely example of how precious she is.
Dance Music
Songs like "Butterfly Kisses" create a melodic picture of the relationship between fathers and daughters. The music for the father-daughter dance should honor healthy relationships between dads and their little girls. Other suggestions include Nat King Cole and Natalie Cole's "Unforgettable," Elton John's "Tiny Dancer," Bette Midler's "Wind Beneath My Wings" and Josh Groban's "You Raise Me Up."
Other Activities
Dinner provides a beautiful start to the evening. The event itself can include a dinner, or dad can take his young date for dinner at a nice restaurant. Some of the community events include additional activities for fathers and daughters, including making crafts and playing games together. Pictures of dad and daughter remind them of the event long after the flowers have wilted and she has outgrown the dress.
Annual Event
Many communities make father-daughter dances an annual event. Fathers who hear about the event when their daughters are children do not hesitate to come to the tradition late and leave vowing to return next year. Moms save the pictures from year to year, affirming the event as something special and worth remembering. Communities embracing the tradition hope to see new generations of fathers and daughters join the ranks, swelling the numbers of attendees each year.
Photo Credits
Jack Hollingsworth/Photodisc/Getty Images