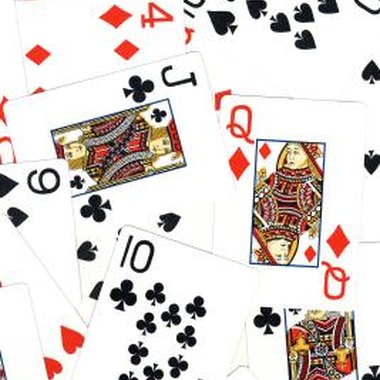 While a trip to Las Vegas might not be in the cards, you can recreate the glitz, glamour and excitement of a casino by hosting your own casino-themed party. In addition to the obvious -- gambling tables -- a large portion of your time and budget should be spent on creating an exciting atmosphere. A good place to start is the centerpieces, which are a focal point at any event.
Flowers
Floral centerpieces are a timeless choice for any event. In the case of a casino-themed party, try using red and black flowers. Not only is the strong color contrast stunningly eye-catching, but a deck of cards consists of red hearts and diamonds and black clubs and spades, so the two colors together match the theme beautifully. The faces of the cards are white, so you can include white flowers as well if you like. For more variety, try alternating between red-and-white floral arrangements and black-and-white floral arrangements.
Balloons
The red, black and white color scheme can also be used to create balloon bouquets. All you need is a bunch of helium-filled balloons, ribbons and balloon weights. Casino-themed balloons can be purchased online or at a party supply store, but they are not necessary. Do stick with balloon weights in kitchy casino styles, and go for ribbons in red, black and/or white. If you're not much of a do-it-yourself type, order them from a party supply store or a florist.
Chips
For a centerpiece that will have all your guests itching to gamble, glue stacks of chips in different denominations to a plate or other flat, hard surface. For more dimension, use varying number of chips in each stack. You might also want to cover the plate with playing cards before you glue the stacks of chips in place, or glue stacks of play money alongside the chips.
Cards
For another homemade centerpiece idea, use a hand of playing cards fanned out and held by a tall place-card holder. Not only is the height of this kind of centerpiece eye-catching, but the narrowness of the base means it won't obstruct your guests' view, as many others do. To make this centerpiece, purchase several decks of jumbo playing cards, divide the cards into stacks of five, fan the cards out, glue them together at the bottom and place them in a casino-themed place-card holder. Guests seated at separate tables might even begin gambling on which table has the best poker hand!
Photo Credits
Jupiterimages/Photos.com/Getty Images