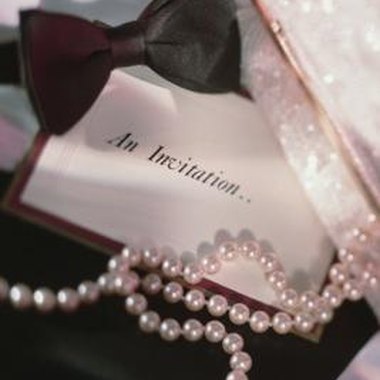 You're organizing a formal, black tie event, which means your invitations should give guests the impression that the celebration will be elegant and sophisticated. Choosing the appropriate designs and colors for the document can make the invitations stand out and give them visual appeal while still maintaining the party's formal feel.
Shapes
While a number of formal invitations are square or rectangular, you can add more flair to the documents by using stencils to create invitations in the shape of evening gowns, bow ties or champagne glasses. Or, make black tie invitations in the shape of the guest of honor's initial, or in an image that represents the season the formal invitation will take place, like a Christmas tree bulb for a holiday black tie gala.
Colors
Conservative colors like off-white, ivory and black make a black tie invitation look especially refined, and give the appropriate impression to guests concerning the event's formal nature. However, you can "wake up" the invitations with subtle color accents that complement the invitation's basic hues. For instance, a burnt orange border for the invitation of a Thanksgiving-themed black tie event is fitting. Or, use a jewel tone that the bride and groom have selected as one of their wedding colors for the invitation or envelope border, like emerald green or aubergine.
Font
Font for black tie invitations should be fancy but easy to read, so a cursive type is best. According to the Microsoft Office website, serif fonts have an especially formal look to them. The website also asserts using content fonts as opposed to display fonts for invitations, since content fonts are easier on the eyes and to decipher, regardless of font size.
Designs or Symbols
If you've decided to send your guests black tie invitations in a basic shape, add a decorative symbol to the bottom or center of the invitation to make it more attractive. For instance, a large cursive monogram of the couple's new last initial is fitting for the center of a formal wedding invitation. A word that embodies the feel of the occasion like "love" or "bliss" printed in the background will make the invitation stand out as well. If the black tie invitation is of a professional nature, a fancier version of your company's logo printed at the bottom center of the invitation will make the black tie invitation one-of-a-kind.
Photo Credits
Comstock/Comstock/Getty Images